Last Minute Father's Day Gift Idea: 'Say It With Bacon,' Oscar Mayer's New Bacon Gift Set For Dad [VIDEO]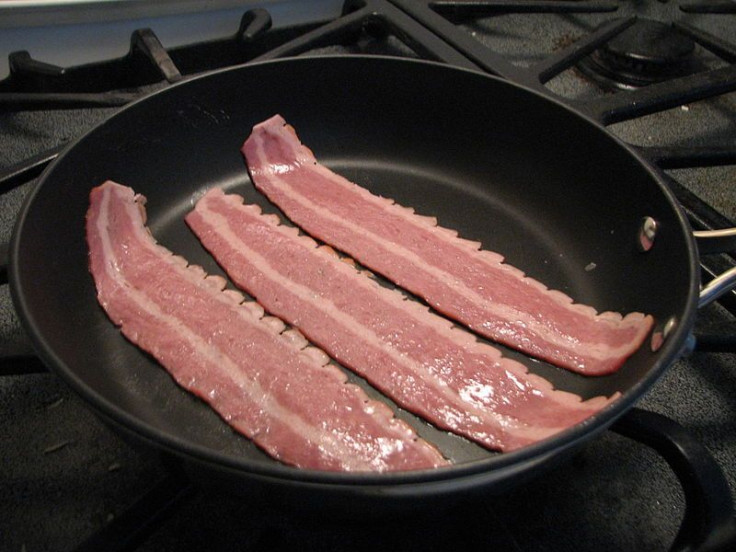 It's not too late to find the perfect gift for Father's Day. Oscar Mayer, the brand that taught you how to spell "bologna," has a suggestion: "When words aren't enough: Say it with bacon."
That's right. The company has several different bacon-themed gifts for the man in your life. You can order any number of themed sets, based on your dad's personality.
The "commander" set includes Oscar Mayer original bacon strips, a stainless steel money clip, and a card on which you can express your love for dad. The "matador" set also includes original bacon strips, along with a set of bacon-shaped cufflinks. The "woodsman" set includes the same signature bacon with a "rugged multi-tool" for the man in your life who loves the outdoors.
The brand may be onto something. Bacon-themed items seem to be a growing trend, with bacon band-aids, bacon smelling perfume and bacon-flavored toothpicks. Just last month 105-year old Pearl Cantrell said that bacon has been the key to her long life. "I love bacon, I eat it every day," Cantrell told NBC affiliate KRBC. "I don't feel as old as I am, that's all I can say." She added that she could "eat bacon for every meal."
"We're really excited," said Leigh Myers, an Oscar Mayer brand manager. "This offers us both the opportunity to talk about what makes our bacon so special and to do it in a humorous way."
Published by Medicaldaily.com