Legless Man Scales Kilimanjaro in Just Seven Days by Crawling on His Hands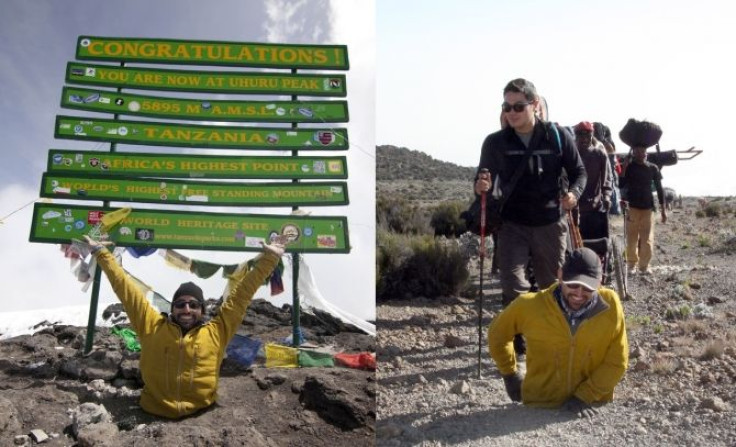 A 31-year-old who lost both his legs in a double amputation at age five has reached the top of the highest mountain in Africa using just his hands.
Spencer West from Toronto, Canada reached the 19,341ft high Mt. Kilimanjaro summit at Uhuru Peak on Tuesday afternoon.
West had been born with sacral agenesis, a genetic condition that left his lower spine abnormally developed and his legs permanently crossed. His legs were removed below the knees at the age of three, and at the age of five he had them amputated to below his pelvis, according to the Toronto Star.
His doctors had told him that he would never be a normal functioning member of society, a judgment he has continued to defy his entire life.
West spent a year training for the expedition that set off on June 12.
He hiked with a team of 50 people, including his two best friends David Johnson and Alex Meers, porters and videographers, the Toronto Star reported.
"The moment the summit was within sight was incredible," West wrote in a blog documenting the trip. "After seven grueling days of relentless climbing, after 20,000 feet of our blood, sweat and tears (and, let's face it, vomit) we had actually made it. We were at the top. The summit sign seemed almost like a mirage."
Only about 50 percent of the people who set out to reach the top of the mountain make it, about 10 climbers die each year attempting the trek, and about one thousand have to be evacuated.
The trek to the top took seven days of hiking though Tanzania's jungles, snowfields and desert, and West used his wheelchair for just 20 percent of the climb and did the rest with his gloved hands.
"The bleeding fingers and blisters were all worth it," he wrote.
"I set out to climb Mt. Kilimanjaro not only to redefine what's possible for me, but to inspire others to overcome obstacles and challenges of their own, and to give back to communities, that need our help," he added. "Reaching the peak of Mt. Kilimanjaro was the most mentally and physically challenging thing I have ever done, but in doing so, it reinforced the powerful message behind believing in yourself, and believing in others."
West works as a motivational speaker with the organization Me to We that promotes social consciousness through volunteer trips. He joined the organization after traveling with them to Kenya to help build a school, an inspiring experience that changed his worldview and future.
His climb to the top of Kilimanjaro raised $500,000 for Free The Children, a charity that brings clean water to African communities facing drought.
"I will live in this moment again and again for the rest of my life," he wrote. "And if I ever second-guess what's possible, that doubt will be obliterated."
Published by Medicaldaily.com