Life Threatening Storm Hits Western Alaska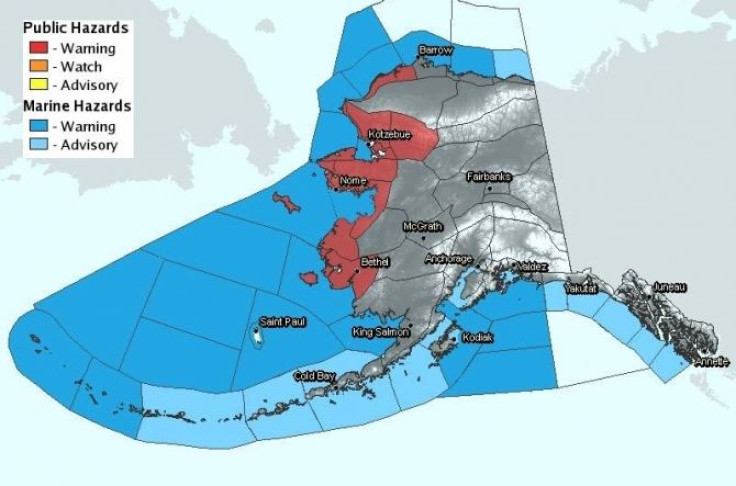 The powerful Bering Sea storm that hit western Alaska early Wednesday with surging seas and rushing winds that ripped roofs off of homes is now impacting western Alaska.
The national weather service is calling the storm "extremely dangerous" adding that it has near record strenth.
Impacts are expected to spread northwest and continue through Thursday in some communities, the National Weather Service said.
There were no reports of injuries but some ocean front homes have been evacuated.
The National Weather Service said that coastal flood and blizzard warnings are in effect for most of Alaska's west and northwest coasts.
About 100 miles west of St. Lawrence Island in the Bering Sea at about 3 a.m. EST the center of the low pressure system was located, with a minimum central pressure of 943 Milibars, or 27.85 inches. Normal air pressure at sea level is about 1016 Milibars, or 30 inches.
"This is one of the deepest systems in recent history to move through the Bering Sea," the National Weather Service said on its website.
As the storms condition worsens it is expected to move north-northeast "creating a life-threatening situation for a large portion of the western Alaska coast today."
The National Weather Service said that the Seward Peninsula near Nome is especially at risk and is getting hit hard by blizzard conditions, 70 mph winds, and an 8 foot coastal storm surge.
The storm surge could produce a 7-foot rise in sea levels, which would cause heavy flooding, meteorologist Stephen Kearney in Fairbanks told the Associated Press.
Meteorologist Scott Berg told the Associated Press that big low-pressure systems often hit Alaska, but this time around they are at risk because it hasn't been cold enough for ice to form around the shore.
"Because we don't have shore-fast ice this time of year, that's what's significant," he said. "Just hasn't got cold enough yet. We have open water generally until the first of December."
Published by Medicaldaily.com