Lifetime Appreciation For Fitness May Prolong Lung Capacity Into Old Age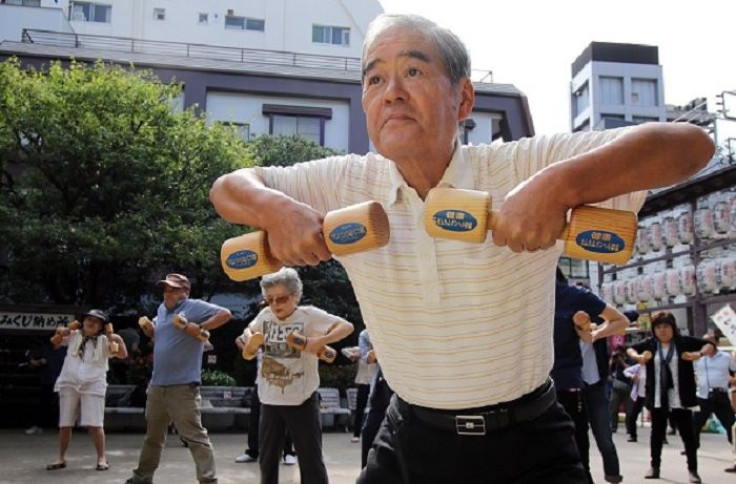 The benefits of diet and exercise are vast and far-reaching. Being fit doesn't just prolong life, but it also boosts health and well-being. While it can't improve lung function per se, new research presented during this year's annual American Thoracic Society Conference suggests an appreciation for fitness can help preserve the muscles and tissue in the lungs that naturally lose elasticity over time.
"While everyone's lung function declines with age, the actual trajectory of this decline varies among individuals," Dr. Lillian Benck, study lead investigator and a medical resident at Northwestern University Feinberg School of Medicine, said in a news release. "What is less known is, beyond smoking, what factors affect this rate of decline."
For the study, Benck and her colleagues analyzed data the National Heart, Lung, and Blood Institute's CARDIA (Coronary Artery Risk Development in Young Adults) Study previously collected from more than 5,000 healthy black and white men and women between the ages of 18 and 30. The study used a treadmill test to measure participants' cardiopulmonary fitness periodically over 20 years. Pulmonary function refers to lung capacity, or how well the lungs take in and exhale air and how efficiently they transfer oxygen into the blood.
After adjusting for age, smoking, and body mass index, researchers found the participants who were most fit at the start of experienced the least annual decline in pulmonary function. They also found that people with the greatest decline in fitness experienced the greatest decline in pulmonary function over the study's period. Meanwhile, those with sustained or improved fitness experienced the least decline in pulmonary function, indicating that fitness matters not just at a single point in time, but over the span of several years.
"Fitness early in life and at middle age appears to attenuate this natural decline," Benck said, noting that the benefit of fitness was even seen among smokers.
That said, this is an observational study, and researchers can't prove a cause and effect relationship between fitness and a reduced decline in lung capacity. However, researchers believe it shows a strong correlation between the two. Benck said that more research is being done to determine whether fitness not only preserves lung capacity, but also reduces the risk of developing lung disease.
Need more reasons to squeeze in a work out? Other benefits of physical fitness include an enhanced immune system and a lower risk of developing diseases such as cancer and heart disease; a delay or prevention of chronic illnesses and diseases associated with aging; and a higher quality of life for seniors.
Source: American Thoracic Society Annual Conference. 2016.
Published by Medicaldaily.com