Longer Gym Class Periods Reduce Childhood Obesity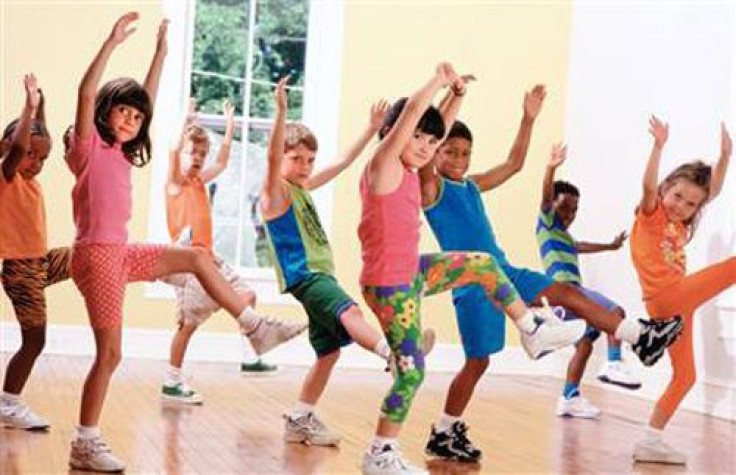 Critics of physical education in schools, get over it — Michelle Obama knows what's good for you.
More time in gym class actually does reduce the likelihood that young children will become obese, according to a new study published in the Journal of Health Economics. The findings are some of the first evidence that physical education (PE) directly impacts the weight of elementary school children, say the researchers.
Organizations including the U.S. Centers for Disease Control and Prevention (CDC) and the American Academy of Pediatrics (AAP) have been advocating for longer gym class periods for some time, recommending that children under the age of 17 should spend at least one hour per day in some kind of physical activity.
More physical education is a sound policy in combating the growing obesity epidemic in the U.S., the study suggests. In 2010, 32.6 percent of American youths aged 6-11 were overweight, and 18 percent were obese. States that are serious about reducing children's obesity risk should increase the mandatory amount of time students spend in PE, write the researchers, and enforce existing standards better.
John Cawley, professor of policy analysis and management at Cornell University, worked with economics professors David Frisvold of Emory University and Chad Meyerhoefer of Lehigh University, to analyze data from the Early Childhood Longitudinal Study, Kindergarten Cohort (ECLS-K), which collected health and recreational data from a nationally representative sample of kindergarteners in the 1998-99 school year to fifth grade in the spring of 2004.
Since they were unable to conduct a randomized experiment of the effect of PE on children's weight, the researchers settled on a "natural experiment" — by seeing how existing differences affect children's weight and body mass index (BMI).
Different states have different requirements for the mandatory minimum amount of time that elementary school children spend in PE, so Cawley's team used the variation among states as the marker for their natural experiment.
They compared weight and BMI data from the ECLS-K by state, and found that an extra 60 minutes per week in gym class reduced the fifth-graders' likelihood of obesity by 4.8 percent.
The researchers wrote that in states without explicit PE time requirements for elementary school students, an extra 60 minutes per week is enough to bring those states up to the physical activity recommendations of the CDC and AAP.
The study also found a gender difference in the effect of gym class on students' weight. While increased PE time significantly reduced boys' weight, there wasn't as much of an effect for girls.
The researchers wrote that this difference might stem from the fact that PE for boys in this sample complemented other extracurricular activities like organized sports, while PE tended to replace such physical activities outside of school for girls.
Significantly, the analysis found no evidence that more time in gym class harmed academic performance.
Other recent studies have found that longer gym class periods for young children can actually improve academic achievement, along with increasing muscle strength.
Source: Cawley, J., Frisvold, D., Meyerhoefer, C. The Impact of Physical Education on Obesity among Elementary School Children. Journal of Health Economics. 2013.
Published by Medicaldaily.com