Lose Yourself In Eminem's Music And Watch Athletic Performance Improve By 10%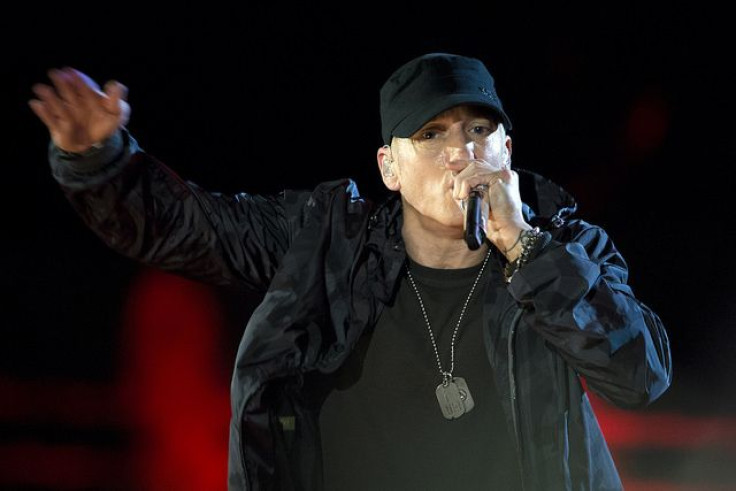 Believe it or not, listening to Eminem may boost your athletic performance — or at least that's what the smallest possible human study says.
Whether you find yourself lifting weights at the local gym, running through a park, or sweating it out to Zumba, your workout probably uses some sort of music to inspire you to push out one more rep, one more mile, or one more dance step. We've seen plenty of instances of music impacting a workout, with streaming music services like Spotify detailing the songs that appear most on people's playlists. Scientists have even gone out of their way to give us a playlist that allows us to get the most out of our workouts. Now, researchers say athletic performance may be boosted by 10 percent when rapper Eminem's songs are played.
British swimmer Ben Hooper, who on Dec. 31, 2015 will embark on a 2,000-mile journey from Dakar in Senegal, West Africa, to Natal in Brazil was the only subject of the study. Yes, those are two countries on separate continents. And yes, Hooper will be swimming. He'll have to contend with huge waves, sharks, and freezing water temperatures on his grueling journey, so researchers from Hartpury University in Gloucestershire spent three months monitoring how Hooper's output was affected by different types of music.
The researchers began the study by playing songs from nearly 100 different artists before slowly narrowing it down to the 10 songs that were found to boost his performance. The final 10 songs — titled "A Soundtrack of Success" — are led by the Academy Award-winning song "Lose Yourself" by Eminem. They'll be packed into a waterproof MP3 player that Hooper will listen to over the course of his swim.
"There's been a lot of research into the effect of music on athletic performance," Richard Collins, sports psychologist and senior lecturer at Hartpury University Centre told Mental Floss. "Our work with Ben, however, highlights the importance of emotional impact."
This emotional impact was exactly what researchers were looking for when they set out to find songs for Hooper.
"The music still needs to be at a brisk pace, but we found that tracks with an emotional resonance can boost performance and endurance as much as 10 percent," Collins said. "This could be because these emotionally tied songs help Ben muscle down and push through the pain and monotony of swimming so many lengths during such an ultra-endurance event."
Eminem is featured heavily on the "Soundtrack of Success" because, according to Collins, "listening to Eminem inspires confidence and determination as there is a general theme of triumphing against the odds, while other songs made [Ben] think of his daughter and reminded him why he's doing this historic challenge — to show that ordinary people can achieve the extraordinary."
Below you can find the rest of "A Soundtrack of Success."
Lose Yourself – Eminem

Not Afraid – Eminem

Don't You Worry Child – Swedish House Mafia

Hall of Fame – The Script

Remember the Name – Fort Minor

Stay – Sash

We Come 1 – Faithless

The Day Is My Enemy – The Prodigy

Without Me – Eminem

Back in the UK – Scooter
Published by Medicaldaily.com