Lower Your Risk Of Diabetes With Chocolate And Wine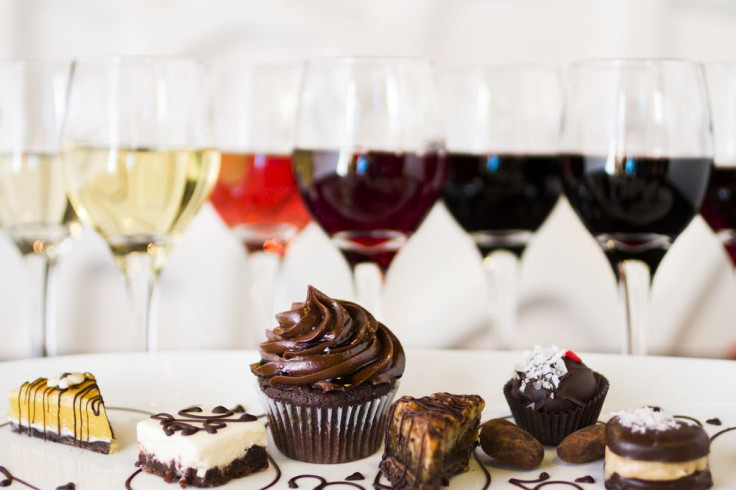 New evidence shows that chocolate and wine may help protect against diabetes, illuminating a delicious prevention strategy against the chronic disease whose annual cost of treatment has risen by nearly 50 percent in the past five years.
Dr. Aedin Cassidy, a professor at the University of East Anglia in the UK and lead author of the new study, said in a press release that the research focused on so-called flavonoids, a bioactive compound known for its antioxidative effect. "Our research looked at the benefits of eating certain sub-groups of flavonoids," she explained. "We focused on flavones, which are found in herbs and vegetables such as parsley, thyme, and celery, and anthocyanins, found in berries, red grapes, wine and other red or blue-coloured fruits and vegetables."
The study, which is published in the Journal of Nutrition, shows that these tiny compounds can make a huge difference when it comes to type 2 diabetes prevention, as they appear to be associated with lower insulin resistance as well as improved blood glucose regulation. Cassidy and her colleagues cite a large-scale study involving nearly 2,000 healthy women, who were asked to estimate their total intake of foods containing lavones, anthocyanins, and other subclasses of the compound. "We found that those who consumed plenty of anthocyanins and flavones had lower insulin resistance," she told reporters. "High insulin resistance is associated with Type 2 diabetes, so what we are seeing is that people who eat foods rich in these two compounds — such as berries, herbs, red grapes, wine — are less likely to develop the disease."
The team also observed that, compared to women with low flavonoid intake, women who consumed high amounts of the compound expressed higher levels of adiponectin, a protein that helps with blood sugar regulation — a hallmark deficiency of diabetes. What's more, the participants' blood samples suggested that the compound carried a similar protective effect against chronic inflammation, a syndrome associated with obesity, cardiovascular disease, cancer, and other serious medical complications.
Chocolate and Diabetes
Since 1995, type 2 diabetes rates in the U.S. have soared, with some states recording a 100 percent increase in diagnoses. The surge has brought with it a similar increase in the total cost of care, which is now estimated at $214 billion — a 41 percent increase since 2007. Many experts argue that these figures could pretty much be reversed if the population begins to follow cost-effective prevention measures like sensible dieting and regular exercise.
"Virtually all of this burden of disease could be eliminated," Dr. David Katz, director of the Yale University Prevention Research Center, told Health Day. "At the population level, diabetes is deemed to be preventable at least 90 percent of the time. Individual risk can be reduced by as much."
Unfortunately, diabetes prevention doesn't appear to be as easy as washing down a chocolate bar with a glass of Merlot. Although that may solve some of your problems, lax glucose regulation is not one of them. Instead, as research collaborator Tim Spector points out, the "high amount" mentioned in the study's conclusion refers to the compound itself rather than the actual food in which it occurs.
"This is an exciting finding that shows that some components of foods that we consider unhealthy like chocolate or wine may contain some beneficial substances," he explained. "If we can start to identify and separate these substances we can potentially improve healthy eating. There are many reasons including genetics why people prefer certain foods so we should be cautious until we test them properly in randomised trials and in people developing early diabetes."
Until then, don't overdo it.
Source: Jennings A, Welch AA, Spector T, Cassidy A et al. Intakes of Anthocyanins and Flavones Are Associated with Biomarkers of Insulin Resistance and Inflammation in Women. Journal of Nutrition. 2013.
Published by Medicaldaily.com