LSU Still Best in Top 25 Harris Poll, Oregon Gains a Spot to 6th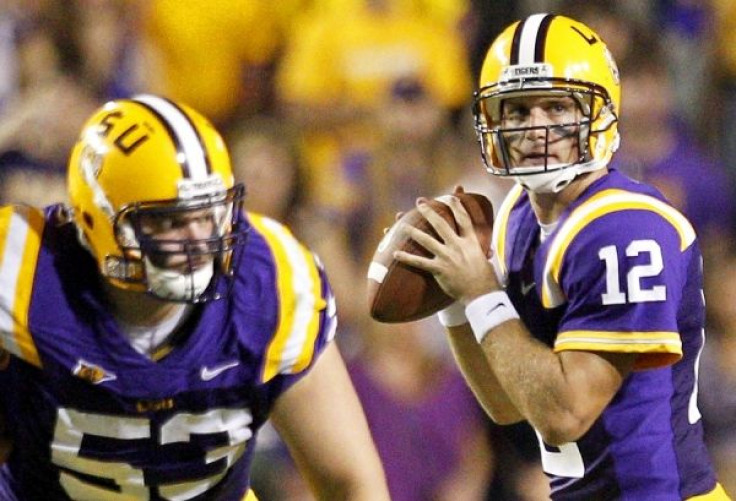 Oregon gained a spot on the Harris Interactive College Football Poll released on Sunday, jumping from 7th to 6th place after beating Washington State.
The poll comes out just a week before a big midseason clash between LSU and Alabam, which are both undefeated and were idle on Saturday.
Oklahoma lost one position and is in 7th place after beating No. 10 Kansas State.
Arkansas gained a spot to reach 8th place and Nebraska jumped 4 places to 9th by beating No. 11 Michigan State 24-3.
Clemson dove 4 positions to 10th after losing to Georgia Tech 31-17.
The following is the Top 25 Rankings for the latest Harris poll:
Highlights of October 30 Harris Interactive College Football Poll

Rank

Team

Record

Points

Previous Game
(weekend of Oct 29)

Next Game
(weekend of Nov 5)

Previous
Week's Rank

1

LSU (93)

8-0

2,853

Idle

at No. 2 Alabama

1

2

Alabama (21)

8-0

2,775

Idle

No. 1 LSU

2

3

Oklahoma State

8-0

2,594

Beat Baylor 59-24

No. 15 Kansas State

3

4

Stanford (1)

8-0

2,552

Beat USC 56-48 (3OT)

at Oregon State

4

5

Boise State

7-0

2,438

Idle

at UNLV

5

6

Oregon

7-1

2,266

Beat Washington State 43-28

at Washington

7

7

Oklahoma

7-1

2,158

Beat No. 10 Kansas State 58-17

Texas A&M

8

8

Arkansas

7-1

2,015

Beat Vanderbilt 31-28

No. 11 South Carolina

9

9

Nebraska

7-1

1,918

Beat No. 11 Michigan State 24-3

Northwestern

13

10

Clemson

8-1

1,697

Lost to Georgia Tech 31-17

Idle

6

11

South Carolina

7-1

1,696

Beat Tennessee 14-3

at No. 8 Arkansas

14

12

Virginia Tech

8-1

1,594

Beat Duke 14-10

Idle

15

13

Michigan

7-1

1,426

Beat Purdue 36-14

at Iowa

16

14

Houston

8-0

1,320

Beat Rice 73-34

at UAB

18

15

Kansas State

7-1

1,126

Lost to No. 8 Oklahoma 58-17

at No. 3 Oklahoma State

10

16

Penn State

8-1

1,117

Beat Illinois 10-7

Idle

19

17

Michigan State

6-2

1,049

Lost to No. 13 Nebraska 24-3

Minnesota

11

18

Wisconsin

6-2

960

Lost to Ohio State 33-29

Purdue

12

19

Arizona State

6-2

825

Beat Colorado 48-14

at UCLA

20

20

Georgia

6-2

724

Beat Florida 24-20

New Mexico State

22

21

Georgia Tech

7-2

466

Beat No. 6 Clemson 31-17

Idle

NR

22

West Virginia

6-2

456

Beat Rutgers 41-31

Louisville

23

23

Cincinnati

6-1

335

Idle

at Pittsburgh

24

24

Texas

5-2

323

Beat Kansas 43-0

Texas Tech

25

25

Auburn

6-3

199

Beat Mississippi 41-23

Idle

NR
Published by Medicaldaily.com