Make Healthy Snacks For Work A Priority: How To Eat Smart On The Job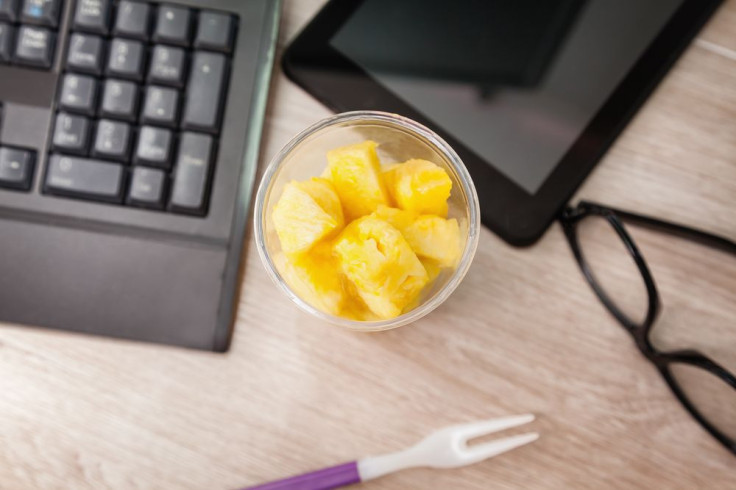 Snacks at work are "the most insidious diet breaker," USA Today reported earlier this week. Well, snacks high in trans-fat — which, let's be honest, are mostly what's on hand in an office.
A study presented at the American Heart Association conference in Chicago found overconsuming snacks high in this kind of fat (think of cakes, cookies, and potato chips) can contribute to memory loss. Six-hundred ninety men of young and middle age were tested, and the men who ate the most trans-fat performed worse on a memory test compared to men who ate less fat. Maybe this is why Google's New York office replaced a glass jar of free M&Ms with an opaque jar of dried fruit.
Today cited after the switch, Google's 2,000 employees consumed 3.1 million fewer calories over a seven-week period. But is eating healthier at work as easy as swapping bite-sized chocolate for craisins, as well as stocking up on whole grains, like dry cereal and crackers? Nutritionist Rania Batayneh, author of the best-selling book The One One One Diet, says it takes a bit more than that.
"The key is not just snacking, but how you snack and on what," she told Medical Daily in an email. "Do you snack sitting down? Is it intentional? Do you carve a specific time of your day out to actually have a snack — or do you wait until you are starving, sending you on a mission to the office kitchen to grab whatever your HR office has found most cost-efficient for the budget?"
While it sounds healthy to keep whole grains in your snack drawer, it quickly becomes unhealthy if these foods aren't balanced with protein and fat. Protein, fat, and carbohydrates are a winning snack combination, Batayneh said. These macronutrients work together to consistently fuel our metabolism and energy, keeping blood sugar stable and our stomachs full.
Healthy snacks for work have to be smart and strategic; you want your own stash in both your desk and gym bag. No, not even the healthiest foods give you license to skip the gym. Below are nutritionist-approved foods for your consideration. Plus, some housekeeping tips to keep in mind when curating your snack drawer.
KIND's Nuts & Spices Bar
"I love KIND bars," Batayneh said. "Not only are they indulgent, coming in flavors like Dark Chocolate Mocha Almond and Dark Chocolate Nuts & Sea Salt, they are also a good source of heart healthy fats, protein, and most importantly made without artificial ingredients."
Saffron Road's Crunchy Chickpeas
"My clients are always looking for a new savory snack — and the Korean BBQ flavor is the perfect alternative to chips," Batayneh said. "Chickpeas are a wonderful food loaded with B vitamins and are also rich in calcium. One serving boasts 5 grams of protein, 2 grams of fiber, and only 2.5 grams of fat. They are also Non-GMO Project verified and are made with organic Chickpeas. They make a great snack for those who have a gluten-free diet as well."
Baby Carrots And Hummus
Speaking of chickpeas, Batayneh recommends their mashed-up version: hummus. In addition to vitamin B and calcium, chickpeas boast high levels of fiber, folic acid, and otherwise nutrients necessary for heart-health.
"I love Sabra Hummus," she said. "With less than 160 calories in a 4-tbsp serving, and 1 gram of fiber in each tablespoon, you can enjoy this snack with veggies to keep the calories at bay." Lindsay Martin, a registered dietician at the Hilton Head Health Institute in Hilton Head, S.C, agrees. If Sabra is unavailable, she'll spring for Tribe.
Half Of Your Lunch
Half now, half later: It's the simple idea you enjoy half of your lunch at your proper lunch time and save the other half for your mid-afternoon snack. It's one of the most-effective Batayneh shares with her clients.
"For most people, nonsensical, unconscious and imbalanced snacking is more likely to happen when we skimp on meals, so I recommend that clients find easy lunches to make and take," she said. "I love the Organic Spinach & Cheese Tortellini from Three Bridges. I recommend that you make the pasta, let it cool, top with Italian dressing or vinaigrette, as well as veggies for added fiber and nutrients. It's a delicious pasta salad!"
Somersault Snacks
"This sunflower seed-based snack is a good source of fiber and vitamin E, also offering the same amount of protein as a serving of almonds (another great snack idea), but with fewer calories and less fat," Batayneh said. "I love the 1-ounce single serve bags that come in two different flavors: Pacific Sea Salt or Cinnamon Crunch. They pair perfectly with an afternoon latte or cup of tea."
How To Build A Healthy Snack Drawer
Choosing snacks for your drawer or office refrigerator is half the battle. Now, how do you store them? Martin has two ideas.
"If you have a kitchen in your workplace, bring all snacks for Monday through Friday into the office at the beginning of the week so you're prepared and have a sense of ease knowing there is something easily attainable," she told Medical Daily in an email. And if you're working with a traditional drawer, opt for individualized snacks to keep from going overboard.
Start by making a list of three to five healthy snacks. They can be any of the snacks suggested here, one's Medical Daily has previously recommended, or another healthy combination, like Greek yogurt and pomegranate seeds or apple slices and individual packets of Justin's almond butter, Martin said. A list will keep you from getting overwhelmed. Once your snacks become very routine, change them up to keep your drawer interesting.
Location matters as well, Batayneh said. Where (and in what) you store your snacks is a predictor of accessibility. An existing idea is that our eyes are often hungrier than our stomachs.
And, if you're portioning out your snacks onto a plate, you may want to invest in red-colored ones. A study published in the journal Appetite found eating snacks off of a red plate — thanks to conditions of "Stop" — help curb appetite and prevent you from overdoing it at snack time.
Don't forget to treat yourself now and again, too. Martin actually suggested keeping individual pieces of Dove Chocolate in your desk, while Batayneh recommended going for one of the cookies your bake-savvy co-worker brought in. Pair it with a half cup of milk and call it a day.
"What you eat can still include a treat, but you have to balance it out," Batayneh said. You don't have to fear snacks at work. With some know how, you can stay happy and healthy.
Published by Medicaldaily.com