Makhaela Jenkins Is Banned From Playing On Ohio School District's Football Team Because She's A Girl: Federal Law Fails The 12-Year Old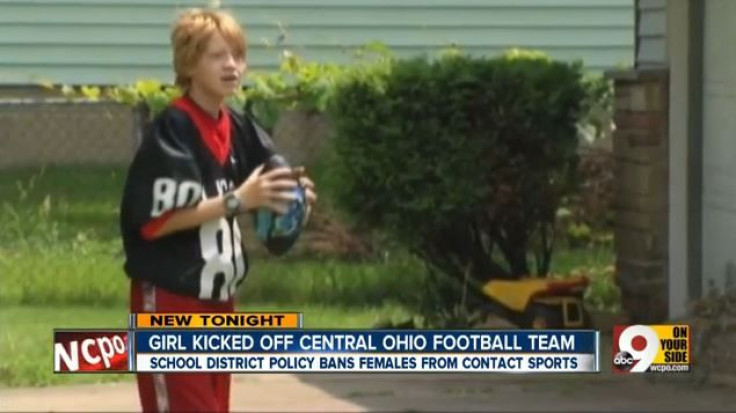 For years, 12-year-old Makhaela Jenkins has been playing football in her hometown of Baltimore, Ohio — up until recently. The central Ohio school district has sidelined Jenkins because she's a girl and their district has unique rules that do not allow females to participate in any contact sports, including football and wrestling.
According to Liberty Union-Thurston School District's superintendent Paul Matthews, the school did not violate any rules or regulations in claiming her ineligibility, including Title IX, a portion of the Education Amendments of 1972.
Title IX protects people within education programs and activities from being discriminated based on their gender, so long as the education system receives federal financial assistance, which central Ohio's school district does.
"We are not violating Title IX," Matthews told the local Fox affiliate. "We have opportunities for girls, but those opportunities do not include contact sports."
Jenkins' coach gave her a roster spot and locker after she spent days of practicing, but she cannot participate in any games or contact drills. It was a surprise not only to Jenkins and her family, but also ro many of the district's community members, especially since the seventh grader has played youth football in the Baltimore for several years without an issue. Although the league was not affiliated with her school district, Jenkins believed her school would treat her the same as the rest of her team.
"We think we have plenty of places for everyone to fit in, but it is simply a choice," Matthews said in an interview with MyFox 28. "It is a choice our district has the option to make and that is the choice we have decided to make."
According to the United States Department of Justice, Title IX's prohibitions against sex discrimination only apply to vocational, professional, graduate, and public undergraduate schools. The law does not apply to elementary, secondar,y or private undergraduate school, or to university-based fraternities and sororities, the Girl and Boy Scouts, the YMCA and YWCA, and the Camp Fire Girls; or any tax-exempt youth organizations with members under the age of 19.
Many community members have rallied together to ask the district to change its gender-discriminatory policy. Jenkins spent the off-season weight training and preparing for the upcoming season and has said she earned a spot to play on the team.
"It sets me apart from everyone else and it lets everyone know it is OK to be different and you don't have to follow what everyone else does," she told Cincinnati's ABC 9.
Title IX was put in place in 1972 specifically to stop sex discrimination in schools, but has uniquely failed in the case of this female football player. School administrators are required to provide written confirmation that their Department of Education and all of its schools that use federally-funded equipment and facilities are in compliance with the guidelines set forth for public schools.
Although Matthews insists the school is within their rights to ban students from participation based on gender, the American Civil Liberties Union's Ohio chapter sent the superintendent a letter on Thursday that says otherwise. According to the Union, the district's decision is "unacceptable and unlawful" and does not have a "legitimate basis" to stand on that can deny female students participation from the football team.
"Some people have different goals and dreams they want to follow, and if they want to play a sport, [they] should be able to play a sport no matter what gender you are," Jenkins told MyFox 28.
Published by Medicaldaily.com