Many Pet Foods Contain Various Amounts Of Unlabeled Animal Parts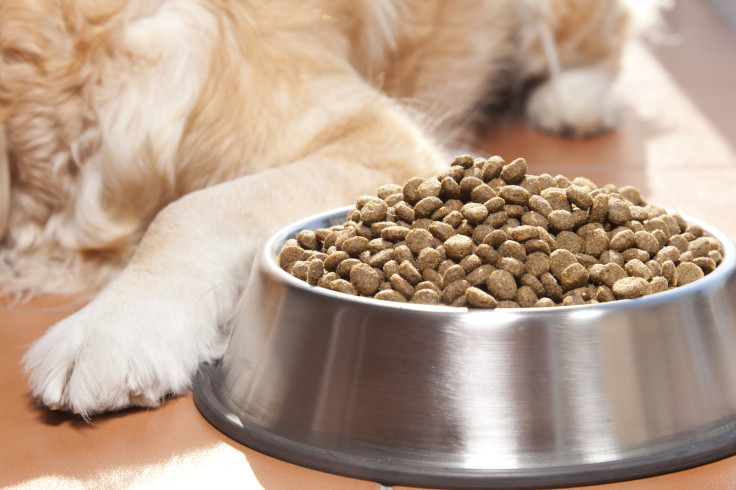 People looking for the right food for their canine or feline companions might have an especially hard time, as a new study has found many dog and cat foods contain portions of animals that aren't labeled.
Published in the journal Acta Veterinaria Scandinavica, the study looked at the contents of 17 leading cat and dog foods in the UK, and found 14 of them contained various amounts of chicken, cow, or pig DNA without marking it on the label. In fact, many of the pet foods contained more animal protein from animals not explicitly labeled than from what their labels said.
Of the seven products labeled "with beef," only two had more cow DNA than pig or chicken. All seven had an overall beef content ranging from 14 to 56 percent, according to a press release. When it came to the six products labeled as having "chicken" or "with chicken," their overall content ranged from one percent to 100 percent, while two contained more beef or cow than chicken.
Adding these animal proteins in pet food without labeling them is within regulatory guidelines in the UK, the researchers said. But the findings could apply to the U.S. as well, as the foods tested were from international brands, Time reported. As it turns out, the Food and Drug Administration seems to go by a similar standard, as it doesn't require pre-market approval of pet foods containing meat, poultry, or grains — these ingredients are considered safe. Generally, pet foods should be "safe to eat, produced under sanitary conditions, contain no harmful substances, and be truthfully labeled." In other words, the FDA relies on an honor system.
"Besides the customer not being able to readily make an informed choice on the pet food product due to incomplete disclosure of ingredients (allowed by legislation), there could be added complication of pet food allergies where a dog or cat could have adverse reactions to certain undeclared animal proteins in a product," study author Kin-Chow Chang, a professor of veterinary molecular medicine at the University of Nottingham, told Time.
While any dog can develop allergies, they tend to be especially prevalent in terriers, setters, retrievers, and flat-faced breeds like bulldogs. Symptoms include itchy red skin, sneezing, vomiting and diarrhea, swollen paws, and constant licking. In some cases, a secondary bacterial skin infection could emerge, causing hair loss, scabs, and crusts on the skin. All cats can develop food allergies. Veterinarians often recommend limiting a dog's diet or changing their food when a reaction occurs and the reason isn't immediately apparent. Cats, meanwhile, are more likely to be put on a prescription or hydrolyzed protein diet.
Source: Maine I, Atterbury R, Chang KC. Investigation into the animal species contents of popular wet pet foods. Acta Veterinaria Scandinavica. 2015.
Published by Medicaldaily.com