Mark Brown, Man Who Danced With Raccoon On YouTube, Launches Campaign To Get His Pet Back After It Was Seized By Wildlife Agency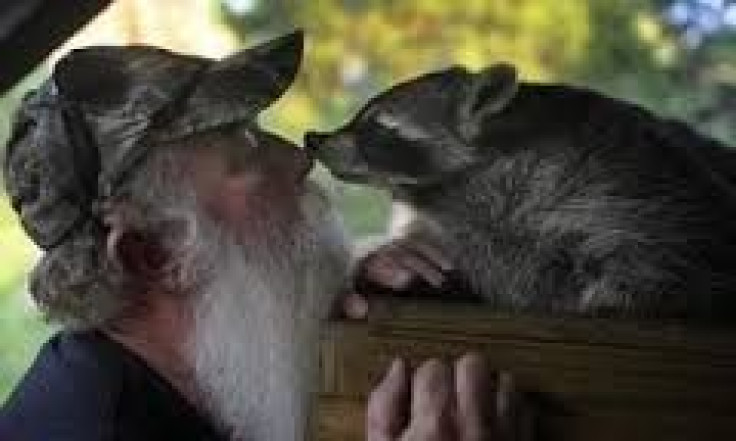 Mark Brown, the man from Tennessee who received quite a bit of YouTube attention from a video of him dancing with a raccoon to Aretha Franklin's "Chain of Fools," has launched a national campaign on Change.org to get his pet back. Brown's furry friend, Rebekah, was seized by the Tennessee Wildlife Resource Agency (TWRA) due to a law that states wild animals cannot be kept as pets.
"A wild animal is always unpredictable. They just aren't suitable for pets," TWRA spokesman Don King told The Tennessean. "It's pretty black and white the way the law reads."
In addition to his online fundraising effort, Brown has also petitioned Tennessee Governor Bill Haslam for support. The "Save Rebekah" account on Change.org has already gained over 3,500 supporters who want to "return Rebekah to the only family she has ever known."
Rebekah is not the first raccoon that the former animal control officer has cared for. Brown, also known as "Coonrippy," first appeared on YouTube dancing alongside Gunshow, another raccoon he rescued just four years back. Brown and Gunshow were even enlisted for their own reality show; however, the animal's unfortunate death earlier this year put a halt on production, WKRN reported.
Three-month-old Rebekah is currently being held at Walden's Puddle, a wildlife rehabilitation and education center that cares for sick, injured, or orphaned native wildlife. Brown says bringing his buddy home is all that he can think about.
"I ask God every night for two things, either free Rebekah back to me or just let me forget about it," Brown told WKRN. "One is a whole lot easier than the other."
Although a sad story indeed, TWRA does have cause for concern following a raccoon rabies outbreak in 2003 that spread rapidly throughout the state. The Tennessee Department of Health partnered with the United States Department of Agriculture to distribute an oral rabies vaccine for wild raccoons.
"Rabies is most common in wild animals in Tennessee, and it poses a risk to humans and domestic animals that come into contact with wildlife," said L. Rand Carpenter, state public health veterinarian.
"Control of raccoon rabies is vital to public health and we are very supportive of this USDA effort."
Published by Medicaldaily.com