Mediterranean Diet Health Benefits: Eating Fish, Oils, And Veggies May Fight Uterine Cancer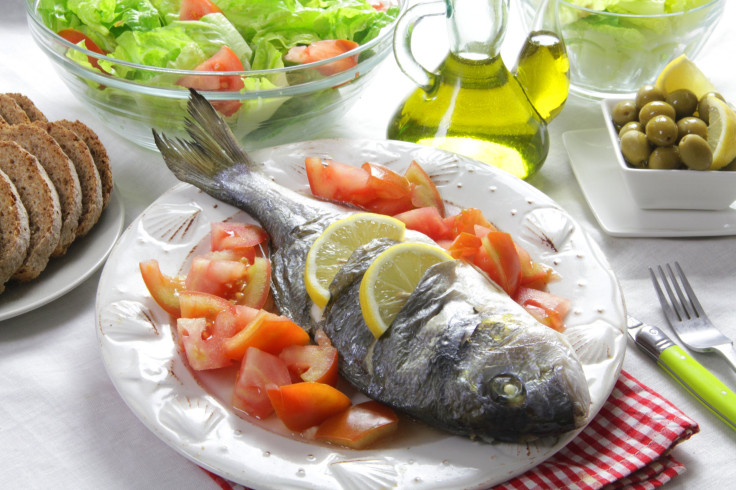 Add cancer to the list of ailments that the Mediterranean diet can help protect you from. A new study published in the British Journal of Cancer finds that women who consumed a Mediterranean diet lowered their risk of uterine cancer by 57 percent — a significant number.
"Cancer risk is affected by our age and our genes, but a healthy lifestyle can also play a part in reducing the risk of some cancers," Dr. Julie Sharp, head of health information at Cancer Research UK, said in the press release. "Not smoking, keeping a healthy weight, being active, eating healthily, and cutting down on alcohol helps to stack the odds in your favor."
The Mediterranean diet, in particular, proves to be a fantastic eating routine that can help you in more than one way. Studies on the diet have shown time and again that it's beneficial for so many aspects of your health and can improve your cognitive function and memory, lower your risk of heart disease by 50 percent, and help you in losing pounds. Usually, it involves eating plenty of fresh fruit and vegetables, healthy olive oils, fatty fish like salmon, nuts, and red wine.
In the study, the researchers reviewed 5,000 Italian women's diets and watched how much they stuck to the Mediterranean diet. They broke down the Mediterranean diet into nine groups: vegetables, fruits, nuts, pulses, cereals and potatoes, fish, monounsaturated fats (but little meat), milk, and moderate alcohol intake — then tracked how many women ate between seven to nine of these groups. Those who did lowered their risk of uterine cancer by 57 percent, those who ate six elements of the diet reduced their risk by 46 percent, and those who ate five lowered their risk by 34 percent.
"Our research shows the impact a healthy balanced diet could have on a woman's risk of developing womb cancer," Dr. Cristina Bosetti, lead author of the study, said in the press release. "This adds more weight to our understanding of how our everyday choices, like what we eat and how active we are, affect our risk of cancer."
Of course, more research will be needed to solidify the association between the Mediterranean diet and uterine cancer. "While we know that getting older and being overweight both increase a woman's risk of womb cancer, the idea that a Mediterranean diet could help reduce the risk needs more research," Sharp said in the press release. "This is partly because this study was based on people remembering what they had eaten in the past."
In the meantime, if you ever find yourself unable to choose what to eat for lunch or dinner — remember that fish, nuts, vegetables, and whole grains are going to provide you with way more long-term benefits than your usual grilled cheese.
Source: Filomeno M, Bosetti C, Bidoli E, Levi F, Serraino D, Montella M. Mediterranean diet and risk of endometrial cancer: a pooled analysis of three Italian case-control studies. British Journal of Cancer. 2015.
Published by Medicaldaily.com