Mediterranean Diet Menu May Be Helpful In Losing A Few Pounds Before Thanksgiving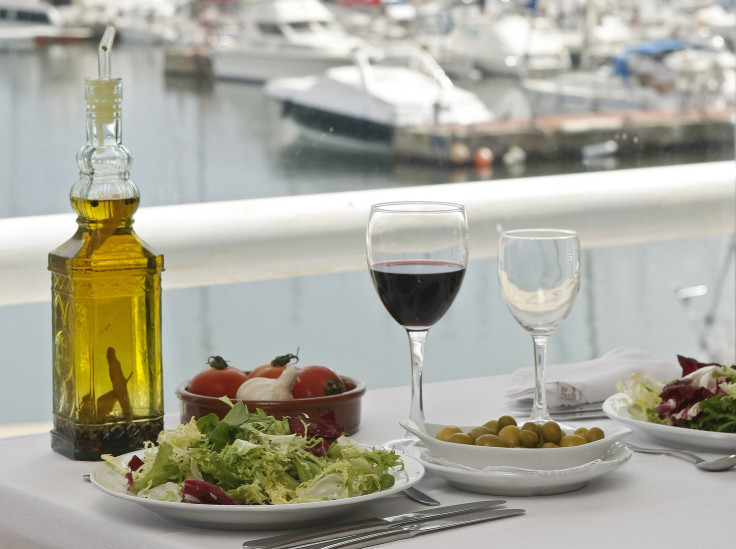 When you think of a Mediterranean diet, what comes to mind? Probably pasta and red wine if you're a hedonist, and if not, you most likely think of fish and vegetables and nuts. A Mediterranean diet has long been associated with lowering your risk of heart disease, yet a new editorial by researchers working with National Health Services England says it also will help you if you're concerned about becoming obese. Following the traditional cooking style of Mediterranean countries, then, might serve you well if you simply want to proactively lose a pound or two before your upcoming Thanksgiving feast.
What's On The Menu?
If you grew up in America, you're probably familiar with a bastardized version of the Italian diet. Spaghetti and meatballs drowned in tomato sauce, thick, greasy subs stuffed with Italian sausages, ravioli and lasagna based on red meat. Real Italians don't eat that way. A truer replication of the eating style of Italians (and their Mediterranean neighbors) would emphasize:
plant-based foods: nuts, vegetables, fruits, whole grains, and legumes
olive oil
herbs and spices, as opposed to salt
frequent fish and poultry
rare red meat
wine, instead of the hard stuff
Importantly, a Mediterranean diet also accentuates sharing meals with others and exercise, both of which may be key to its heart-protecting abilities.
Glancing through the list above, it should come as no surprise that the authors of the editorial appearing in Postgraduate Medical Journal recommend following a traditional Mediterranean diet plan as a way to make "real progress toward combating the obesity epidemic and diseases associated with diet." Specifically, the authors suggest beginning with the "root cause": a healthier food environment.
Be Conscious Of Your Choices
"Our decisions about the food we buy and what we eat are often automatic and made without full conscious awareness," wrote the authors in their editorial. "For example, despite wanting to lose weight, we're still tempted to buy the brightly packaged chocolate bar at the [supermarket]." Caught me!
Knowing our bad habits all too well, the authors say that strategies to prevent excessive weight gain by "reducing consumption of unhealthy foods" might be welcome, but potentially they also may be harmful in what they don't say about diet and nutrition. The weight loss industry, worth about $58 billion annually, promotes calorie restriction rather than good nutrition, the authors note. However, rapid weight loss in many cases simply leads to regained weight, all of which is bad for you.
"Long-term follow-up studies (up to five years) show that most people on rapid diets regain much of the lost weight," wrote the authors. "About two-thirds do not achieve health benefits and put on weight whether or not they maintain their diet or exercise program."
In fact, this type of "weight cycling" contributes to hypertension and possibly diabetes, resulting in increased mortality risk and poor cardiovascular health.
The authors suggest a move beyond well-intentioned but limited" advice on dieting — "eat less and move more" — and instead learn the evidence-based science behind healthy eating. For example, though regular physical activity has tremendous cardiovascular, bone, and musculoskeletal benefits, any benefits are undermined by poor eating. Here, the authors cite a study which showed a shocking 11-times increase in the risk of type 2 diabetes for every additional 150 sugar-based calories — a can of soda, say, or a chocolate bar — consumed daily (as opposed to eating calories from another source).
"You can't outrun a bad diet," wrote the authors.
So turn instead to a good diet: a Mediterranean diet. At the very least, eat healthy all this week before Thanksgiving, and drop your pound or two. You might just like the diet, which allows for pasta and wine (for all you sensualists), and stick with it for life, which would be a vast improvement on most styles of eating. Buon appetito.
Published by Medicaldaily.com