Miami Heat's Dwyane Wade Grants 90-Year-Old Grandma's Birthday Wish To Play 1-On-1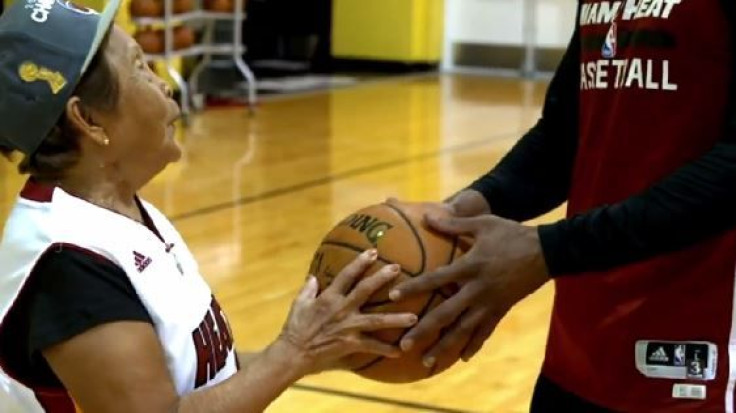 Ask and ye shall receive a game of one-on-one with Miami Heat defender Dwyane Wade. Or at least that was the case for Illuminada Magtoto, 90, who posted a video to her Facebook of her wishing for the two of them to play basketball on her birthday.
Given the magical depth of the machine known as the Internet, Wade came across the video and invited Magtoto (also known as Grandma Nelly) to a Heat practice. She showed up decked out in the team's gear and admitted how long she's wanted to meet him. Wade thanked her for being a fan of his, of the team, and invited her onto the court to shoot around. The exchange (thankfully caught on the video below) is too cute, with Wade suggesting Magtoto's lay-up could rival his teammate's Mario Chalmers. "Now I feel like I am very, very happy. I feel grateful," Magtoto said. Wade, too, was very grateful for the experience.
To him, face time with longstanding fans is what it's all about. Just look back to January when he met Glenda Martinez, his 79-year-old diehard fan who would watch the Heat's every game. Martinez was able to tell Wade how much she likes the way he plays "so fast" when her family and the Heat coordinated for the two to meet each other. "He's excellent, great, perfect. He's a gentleman, just what I expected," Martinez said.
Wade: Heat defender and all-around adorable human.
Published by Medicaldaily.com