Mom's Photo Of Son's Six-Figure Hospital Bill Goes Viral Amid GOP Health Care Reform Debate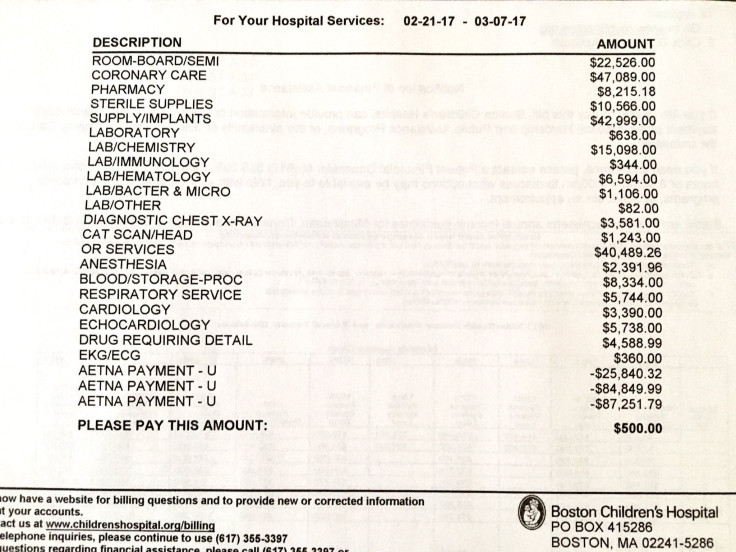 As lawmakers aggressively work to get a new healthcare bill passed, one mother found it "fitting" to share her 3-year-old son's story through tweets, which have now gone viral.
In one of Alison Chandra's tweets she shares a photo of her son Ethan's hospital bill from an open heart procedure, which shows she would be required to pay $231,115 if she did not have health insurance. Fortunately, she does, therefore the bill came to $500.
Read: 10 Genetic Mutations That Can Give People 'Superhuman' Abilities: Super Flexibility, Resistance To Fat, And More
"It seems fitting that, with the #TrumpCare debate raging, I got this bill in the mail today from Ethan's most recent heart surgery," she wrote in a post which has been shared more than 57,000 times.
Ethan received his surgery due to a rare genetic disorder called heterotaxy syndrome. The birth defect affects the heart and other organs causing them to be out of place. There are multiple forms of the disorder that vary in severity, according to the Children's Hospital of Philadelphia. In Ethan's case, he was born with two heart chambers, instead of four, according to his mother. But, the surgeon was able to re-shape his chambers creating what Chandra refers to as his "Picasso heart."
Read: 7-Month-Old With Heterotaxy Syndrome, A Rare Heart Condition, Gets Heart Transplant In The Nick Of Time
Additionally, "Ethan was born with nine congenital heart defects and he has two left lungs. Five or so spleens of dubious function, his liver and his gallbladder are down the middle of his body along with his heart, and then his stomach is on the right instead of the left side," she told CNN.
In a series of tweets, she mentioned that some of her prenatal care, delivery, and Ethan's first two surgeries were paid for through Medicaid. Then, once her husband switched employers, his new insurance covered Ethan's latest procedure. But, if a new health care bill passes, this may not have been possible. She went on to criticize a draft proposal by senate republicans which would put a limit on overall federal spending on Medicaid.
"[Ethan's] life is infinitely precious. That's why we fight so hard," Chandra wrote. "And now this bill wants to take all that and throw it away for the sake of tax cuts and people who don't even need them."
Chandra's son is constantly in and out of the hospital and will require lifelong prescriptions, but she fears with the new bill that neither of those necessities will be covered, she told CNN.
"It seems like our kids are being reduced to a line in a budget," Chandra said. "No one seems to realize there are real people behind it."
See also: Selfies Gone Wrong: Man Looking To Take A Rattlesnake Selfie Ends Up With $150,000 In Hospital Bills
America's Costliest Health Condition: Sepsis, A Relatively Little-Known Disease, Costs Us Billions In Hospitalizations
Published by Medicaldaily.com