Mother's Fear Of Childbirth Could Lead To Postpartum Depression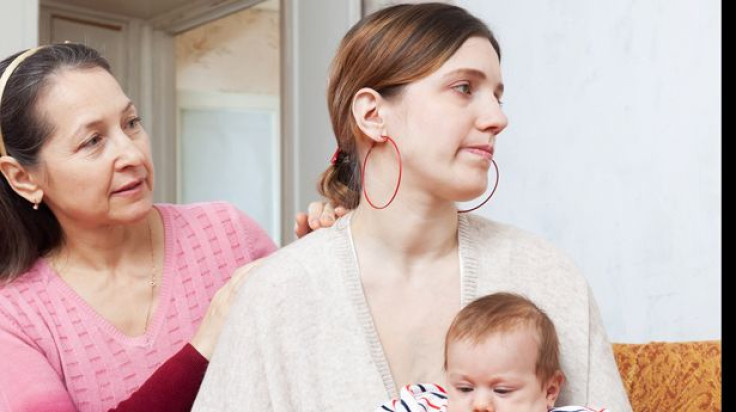 Giving birth can put a tremendous amount of physical and psychological stress on a new mother, even women without a history of major health complications. Researchers in Finland have concluded a study linking a fear of childbirth to a tripled risk of postpartum depression in women who have never been treated for depression.
According to the Centers for Disease Control and Prevention, between eight and 19 percent of women in the United States report postpartum depressive symptoms following childbirth. These symptoms include a lack of sleep, a disconnection between mother and child, scary or negative thoughts about the baby, and feeling ashamed as a mother.
Researchers from various Finnish health organizations, including the University of Eastern Finland, analyzed 511,422 single childbirths in Finland between 2002 and 2010. Among these new mothers, 0.3 percent were diagnosed with postpartum depression. 5.3 percent of women with a history of depression were also diagnosed with postpartum depression.
Approximately one-third of women who experienced symptoms of postpartum depression had no reported history of depression. Women without a history of depression, who were also diagnosed with a fear of childbirth, were at an estimated three times higher risk of postpartum depression. Postpartum depression can have a severely negative effect on a child's development through a loss of interaction between mother and child.
Findings also revealed that a women's risk of developing postpartum depression was highest following their first childbirth. On the other hand, baby blues, also known as postpartum blues, is a more common occurrence among new mothers. Between 50 and 80 percent of women will experience symptoms that include loss of sleep, irritability, anxiety, and loss of appetite immediately following childbirth.
A variety of risk factors unrelated to a fear of childbirth were also recognized including Ceasarean section, preterm birth, and major congenital disorders. The research team hopes the results from their analysis will help childbirth experts with recognizing postpartum depression. Health care professionals make it a point to inform women that postpartum depression is not a character flaw, but rather a complication of giving birth.
Source: Räisänen S, Lehto S, Nielsen H, Gissler M, Kramer M, Heinonen S. Fear of childbirth predicts postpartum depression: a population-based analysis of 511 422 singleton births in Finland. BMJ Open. 2013.
Published by Medicaldaily.com