Mouse Eats Off The Floor At British Pizza Hut; Manchester Restaurant With Perfect Sanitation Grade Calls Pest Control [PHOTOS]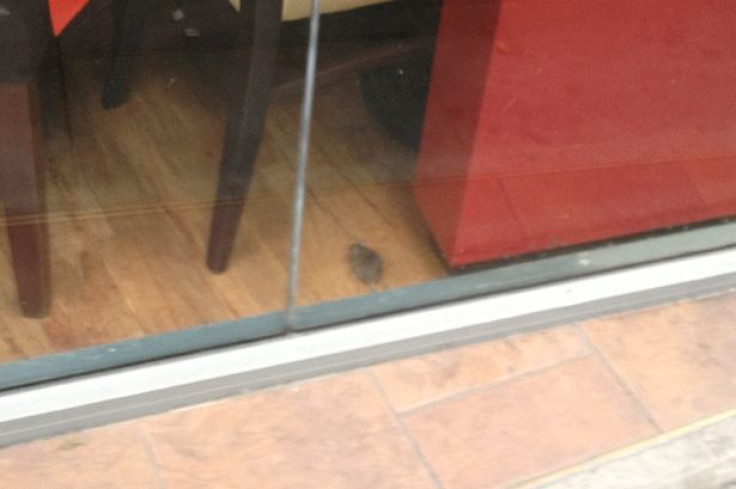 A new photo surfacing out of Manchester, England shows a portly brown mouse eating crumbs off the floor of a Pizza Hut around 6:30 a.m., before the restaurant opened.
John Pringle, 30, walked past the restaurant's window in Manchester city Centre — a large business district in the city — when he noticed a furry rodent scurrying around on the other side of the glass. He quickly realized he was looking at a fat mouse, fervently enjoying a breakfast of crumbs.
"I was walking to the train station at around 6.30am and I was shocked to see a mouse running around the restaurant floor eating crumbs," Pringle told the Manchester Evening News (MEN). "People eat in the restaurant unaware there could be a number of mice actually living inside the restaurant where food is prepared. I do eat at Pizza Hut every so often, but I'll think twice about doing so now."
In late December 2010, the franchise location received a perfect rating by the Food Safety Administration (FSA) giving the bosses a 5/5 along with calling the restaurant's hygiene "very good."
MEN reported the Pizza Hut was forced to call pest control after the news source asked for a comment.
A spokesman from Pizza Hut did announce that they regularly communicate with privately contracted pest controllers to ensure the cleanliness of their outlets.
"At Pizza Hut we take health and safety in all our restaurants very seriously and have fully investigated this isolated incident," the company reported in a statement. "We have taken a number of precautionary measures to swiftly rectify the situation and we are confident that it is under control and there is no risk to our customers or products."
John Pringle, for his part, hopes the company follows through with its claims, saying he hopes "the photo will ensure Pizza Hut removes any rodent problem and improves cleaning within the restaurant."
Pizza Hut completes the triumvirate of fast food locations in the month of June to experience negative attention for potential health violations, sitting alongside a Wendy's employee chugging ice cream straight from the Frosty dispenser and a Taco Bell employee licking a stack of taco shells.
Published by Medicaldaily.com