National Black HIV/AIDS Awareness Day 2014: Statistics, A List Of Free HIV Testing Sites, And Events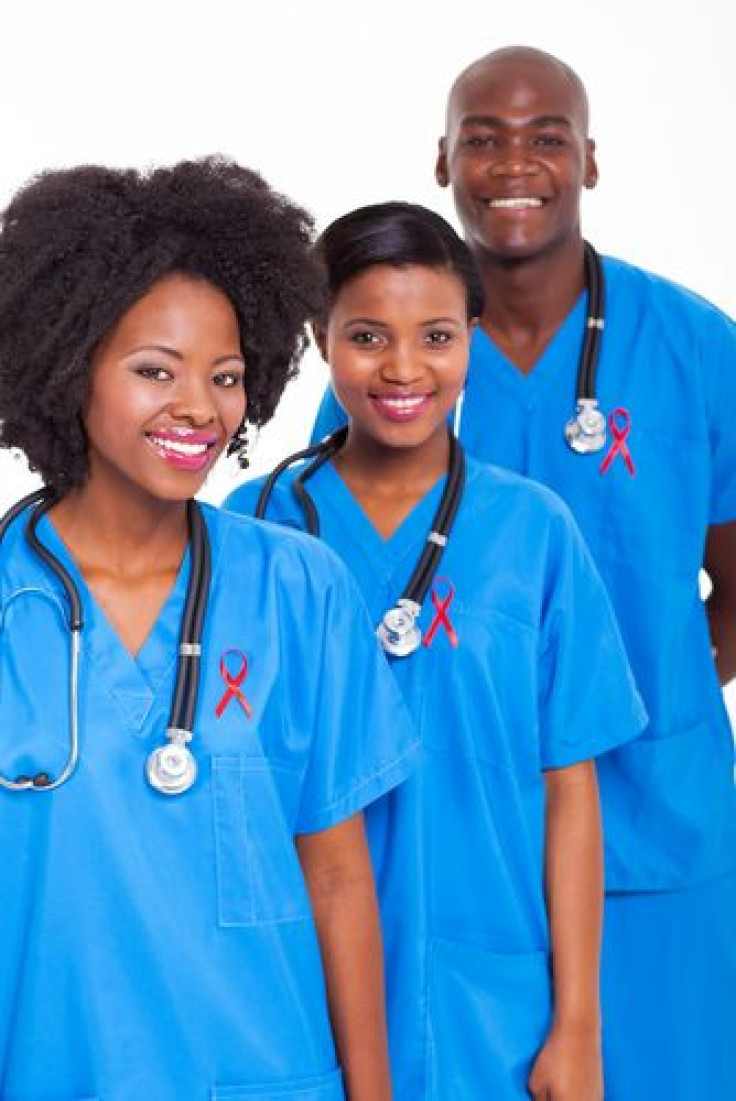 Friday, the Centers for Disease Control and Prevention as well as other AIDS prevention organizations are honoring National Black HIV/AIDS Awareness Day. The day started 14 years ago in order to shed light on blacks and African-Americans suffering from the epidemic, since in the United States they are the ethnic group most affected by HIV.
"African Americans and other Black populations are disproportionately impacted by HIV and AIDS. That was the case at the start of the AIDS epidemic and that disparity has only deepened with time," said Rebecca Haag, CEO of AIDS Action Committee, in a press release. "We need to keep talking about the issue, and to keep bringing attention and resources to it."
Currently, 44 percent of blacks make up the HIV population in the United States — many of the newly diagnosed population include gay and bisexual men. On the positive side, HIV cases in black women have declined. According to a 2010 report by the CDC, the rate of infection was 21 percent lower than it was in 2008. However, the rate of infection is still 20 times higher in black women compared to white women.
According to Edge On The Net, centers all over the country have set up testing and outreach events. Here are a few of the locations:
1. Boston, Mass.: AIDS Action's The MALE Center will partner with HBGC Boston (Hispanic Black Gay Coalition) to offer free HIV testing from 9 a.m. to 5 p.m. at Union United Methodist Church, 485 Columbus Avenue, in the South End. To set up an appointment in advance, contact Quincy Roberts at qroberts@aac.org.
2. Cambridge, Mass.: AIDS Action is partnering with The Men's Health League, an outreach program of the Cambridge Health Department, for a day of awareness and dialogue about the impact of HIV/AIDS on communities of color. The event will include discussion about outreach initiatives into the black community. The event takes place from noon to 3 p.m. at AIDS Action Committee, 359 Green Street, Cambridge. The event is free. RSVP to Anissa Ray at aray@acc.org or call 617-599-0211.
3. Chicago, Ill.: The Universal Family Connection Inc. will host an event at 1350 W. 103rd Street. For information, contact Juliet Jones at 773-881-1711. Free HIV testing will also be offered to all students of the Illinois Institute of Technology, Shimer College, and Vandercook College from 11 a.m. to 4 p.m. All testing will confidentially take place in the Student Health and Wellness Center (3rd floor IIT Tower).
4. New York City, N.Y.: Hep C education and liver screening, resource tabling, and free lunches will be provided at the Street Luke A.M.E. Church at 1854 Amsterdam Avenue. Email AHudson@stlukeamecnyc.org or call Anita Parker at 917-414-2668. Duane Reade pharmacies throughout the city will also offer HIV educational materials and testing.
5. Atlanta, Ga.: The ladies of Gamma Gamma Chi Sorority Inc.'s Alpha Chapter are proud to host their first National Black HIV/AIDS Awareness Day Community Health Forum at Atlanta Masjid of al-Islam. This event is open to Metro Atlanta's Muslim and non-Muslim communities of all races, and will feature Friday Prayer/Salat-ul-Jummah (non-Muslims are also invited to the worship service) at 1 p.m., followed by a National Black HIV/AIDS Awareness Day Community Forum and reception.
6. Dallas, Texas: The Afiya Center is proud to host "Get Tested Grab A Bite." They have partnered with various organizations to provide Free HIV Testing and STD Screenings. Dallas County Health and Human Services Mobile Unit will be on site. Every person who gets tested will receive a free BBQ Chicken Plate. So come out from 11 a.m. to 4 p.m. and learn of your status and eat some good BBQ. 501 Wynnewood Shopping Center in Wynnewood Village. For information, call James Gipson at 214-716-9396.
7. Houston, Texas: Houston's Show Ur Pride group will team up with Bee Busy Inc. and Health Horizons Inc. to start a movement to encourage more African-Americans to get tested and know their status. "Show Ur Pride" will be a testing and social media extravaganza for the Greater Houston and East Texas areas on National Black HIV/AIDS Awareness Day each year. The event will be held all day at 9896 Bissonnet Street, 6th Fl.
8. San Francisco, Calif.: There will be numerous events, including a 6 p.m. press conference on the steps of San Francisco City Hall, a 6:30 p.m. candlelight march to the Quaker Meeting House, followed by an NBHAAD event program consisting of performances by local Bay Area artist and a community panel discussion of AIDS activism and action within the black community.
9. Los Angeles, Calif.: Los Angeles will stage "Black Love = Safe Love," a round-table event where attendees will learn about Pre-Exposure Prophylaxis (PrEP) and other biomedical interventions from experts in the field; attendees will also have the opportunity to get an HIV test. This event is a collaboration between the Black AIDS Institute, BTAN LA, Black Los Angeles HIV/AIDS Coalition (BLAAC), the Magic Johnson Foundation, JWCH Institute Inc. and One Woman Can. It will be held from 5-8 p.m. at 1400 N. La Brea Avenue. Register at la2014nbhaad.eventbrite.com
10. Oakland, Calif.: Oakland has a full roster of events planned, with "Research & Reality," an HIV prevention breakfast update at 1204 Preservation Park Way. Join them for a review of the new realities of biomedical HIV Prevention Research as outlined in "AVAC Report 2013: Research & Reality," including Implementation of PrEP (Pre-Exposure Prophylaxis); Virologic Suppression through treatment adherence, new ARV treatments, therapeutic vaccines, and functional cures; Women's HIV Prevention Research Agenda; plus a report back from the 11th National African American MSM Conference on HIV/AIDS and Other Health Disparities held Jan. 16-19, 2014, in Orlando, Fla.
Published by Medicaldaily.com