National Blonde Brownie Day: 3 Recipes To Fit Your Diet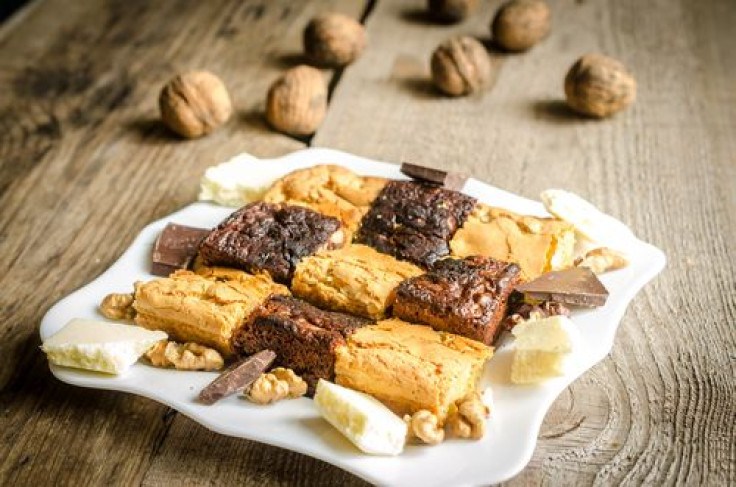 The chocolate-free brownies known as "blondies" are celebrated today as National Blondie Brownie Day makes a mark on our calendars. A blondie is a type of brownie similar in taste to butterscotch, but the one difference is that it doesn't contain any cocoa; sugar, instead, is the base ingredient.
According to a popular baking website, Cake Spy, the blonde brownies predated chocolate brownies under a different name but didn't come into popularity until after the 1950s. Cake Spy also notes that, "some 19th century American cookbooks contain recipes that combined traditional butterscotch ingredients with flour and baking powder or soda." One can assume they are the same recipes for the brownies that we enjoy today.
Here are three blondie recipes that are easy to make at home and will curb your sweet tooth:
1. Traditional Blonde Brownies:
Ingredients:
1 cup sifted all-purpose flour
1/2 teaspoon baking powder
1/8 teaspoon baking soda
1/2 teaspoon salt
1/2 cup chopped walnuts
1/3 cup butter, melted
1 cup packed brown sugar
1 egg, beaten
1 tablespoon vanilla extract
2/3 cup semisweet chocolate chips
Directions:
Preheat oven to 350 degrees F (180 degrees C). Grease a 9x9-inch baking pan. Measure 1 cup sifted flour. Add baking powder, baking soda, and salt. Sift again. Add 1/2 cup chopped nuts. Mix well and set aside. Stir the brown sugar into the melted butter and mix well. Cool slightly. Mix the beaten egg and vanilla into the brown sugar mixture. Add flour mixture, a little at a time, mixing just until combined. Spread the batter into the prepared pan. Sprinkle 1/2 to 1 cup chocolate chips on top. Bake in the preheated oven until a toothpick inserted in the center comes out clean, about 20 to 25 minutes.
Recipe Courtesy Of All Recipes
2. Organic Blondie Recipe
Ingredients:
1 stick unsalted butter, melted
2 tsp. molasses
2 cups brown sugar, packed
2 large eggs, slightly beaten
2 tsp. real vanilla extract
1-1/2 cups unbleached AP flour (unbleached, white wheat (organic) flour for these)
2 tsp. baking powder
1 tsp. salt
1 cup chocolate chips
1/2 cup toasted, chopped pecans (optional)
Directions:
Measure and combine all dry ingredients. Grease a 9″x9″ baking pan.
Melt one stick of butter and put in a large bowl. Stir in the brown sugar and the eggs. Mix until well combined. Stir in vanilla extract. Fold in dry ingredients a third at a time. Make sure all flour is mixed in before adding the next installment. Add chocolate chips and nuts to dough, and stir until combined. Pour into a greased 9×13 and spread with spatula. Bake at 325 for 40-45 minutes. Cool before cutting into 1.5×3″ (approximately) sized bars.
Recipe Courtesy Of Real Girl Food Unmodifed
3. White Chocolate Blondies
Ingredients:
8 ounces white chocolate, chopped
1 tablespoon vanilla extract
1/2 cup butter, softened
1 1/4 cups all-purpose flour
2 eggs
3/4 teaspoon salt
1/3 cup white sugar
1 cup semisweet chocolate chips
Directions:
Preheat oven to 350 degrees F (175 degrees C). Grease a 9x9 inch baking pan. Melt white chocolate and butter in the top of a double boiler, over barely simmering water. Stir occasionally until smooth. Set aside to cool.
In a large bowl, using an electric mixer, beat eggs until foamy. With the mixer still running, gradually add the sugar and vanilla. Drizzle in the melted white chocolate mixture. Combine the flour and salt; fold into the white chocolate mixture using a rubber spatula or wooden spoon. Fold in chocolate chips. Spread the batter evenly into the prepared pan. Bake for 25 minutes in the preheated oven, or until a toothpick inserted in the middle comes out clean. Cool pan on a wire rack before cutting into bars.
Recipe Courtesy of All Recipes
Published by Medicaldaily.com