National Healthy Lunch Day 2016: 3 Nutritious, Fresh Sandwich Recipes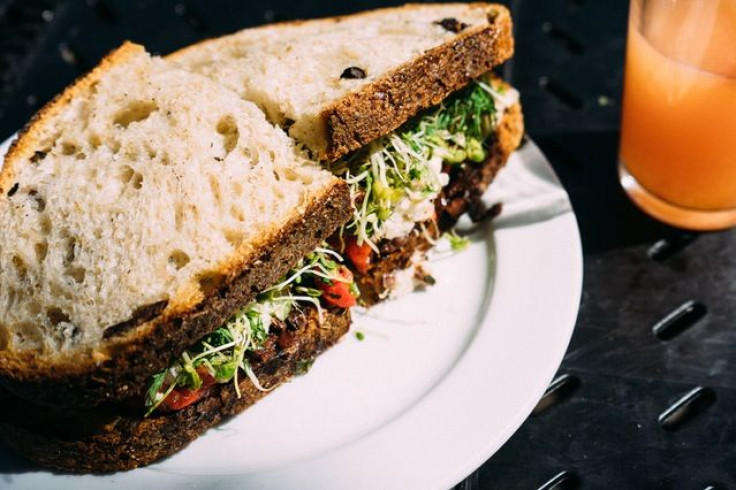 Breakfast is widely considered the day's "most important" meal, but on Nov. 15, the focus will shift to lunchtime. Tuesday is officially National Healthy Lunch Day 2016, and we've listed some nutritious and satisfying recipes for a twist on the classic mealtime go-to: sandwiches.
ROASTED RED PEPPER, ARUGULA, & GOAT CHEESE SANDWICH
Goat cheese and arugula salad go together like, well, peanut butter and jelly. America's favorite quick meal offers some protein, but also contains a ton of sugar. This salad-inspired alternative sandwich only has about four ingredients, not including bread, and a lot of necessary nutrients.
"I love this sandwich because it packs huge flavor along with a nutrition punch — loaded with vitamin K and protein," registered dietitian Heidi Diller said in a press release. "Plus, it's easy to make and perfect for vegetarians or picky eaters."
Get the full recipe from Nature's Harvest Bread.
OPEN-FACE GRILLED VEGETABLE MELT
Craving a grilled cheese for lunch? Instead of a greasy snack with few vitamins, try this veggie variation instead. The prep time will be a bit longer, but your body is bound to thank you.
"I like to follow the 'rainbow rules' for better nutrition," registered dietitian Ashley Koff said in a press release. "And this sandwich is chock full of colorful vegetables containing beneficial vitamins and minerals."
Get the full recipe from Eureka! Organic Bread.
OPEN-FACE EGG AND SPINACH SALAD SANDWICH
"This delicious sandwich makes for the perfect lunch — it includes four fiber and nutrient-packed vegetables and Eggland's Best eggs, which provide a boost of protein to keep you satisfied. And, they offer double the omega 3s and 5 times the vitamin D of other eggs," registered dietitian Lyssie Lakatos said in a press release. "At just 249 calories a sandwich, you won't break the calorie bank!"
Ask any foodie; tomato, corn, scallions, and parsley taste great together. Meanwhile, an open-face sandwich ensures only half the bread calories, therefore filling your belly with even more vitamin-rich ingredients.
Get the full recipe from Eggland's Best.
Read more:
Students Aren't Eating Healthy School Lunches, Despite Availability; How Cafeterias Fail To Improve Student Health
5-Ingredient Recipes: 6 Delicious And Healthy Meals For Breakfast, Lunch, And Dinner
Published by Medicaldaily.com