National Yoga Month 2016: 10 Instagram Stars To Follow For Yoga Inspiration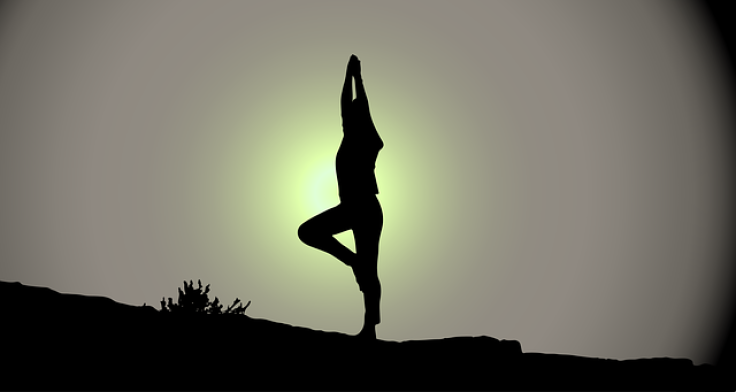 September is National Yoga Month — will you be celebrating? For the next 30 days, focus on the benefits of this spiritual practice that's been proven to reduce stress and improve mood. Plus, daily yoga can help you lose weight, look fit, and stay healthy.
For many people, yoga is a lifestyle. Not ready to totally commit yet? Over the next month, try a beginner session and learn more about the age-old discipline. You can also take to social media as a way to understand the world through a yogi's eyes and see where the practice can lead you. Here's a list of 10 awesome Instagram stars to follow for endless yoga inspiration.
Caitlin Turner is an Arizona-based yoga teacher who embraces travel and combines it with her practice. The influencer's colorful Instagram page will give you a sense of wanderlust, as well as a desire to get on the mat.
Brian Miller is a yoga teacher from Montreal with a constructive approach to the spiritual discipline. He actually began doing yoga after 15 years of boxing, according to DoYouYoga.
Rachel Brathen is a pioneer of Stand Up Paddle Board Yoga and an "influencer." The Swedish-born instructor has an expansive social media audience, with over 2 million Instagram followers.
Mother-daughter yoga can be a great bonding experience, just ask Laura Kasperzak. The Hawaii-based yogi shares sweet shots of herself and her toddler daughter practicing together that will tug at your heartstrings.
There's no doubt that yoga is more fun with someone else — just ask husband-and-wife instructors Briohny and Dice Iida-Klein.
Yogi Jessamyn Stanley has been featured by Cosmopolitan, People, Good Morning America, Buzzfeed and more. The social media star has an impressive attitude towards her practice that's guaranteed to inspire you.
Vancouver-based yoga teacher Jared Fu embraces his impressive strength and flexibility on Instagram. The artistic images that he shares look like they belong in a photography gallery.
Best known for her YouTube yoga tutorials, Adriene Mishler is an unapologetic Texan who urges you to "find what feels good." Her Instagram page also features many appearances by her adorable dog, Benji.
Ever feel like urban confinement is holding you back from really extending into Warrior III? New York City resident and lover Danielle Abisaab shows that there's no space too small to embrace yoga.
September marks the beginning of National Yoga Month, as well as the approaching end of summer. If you love the beach and sunshine just as much as you need yoga inspiration —look no further than California-based instructor Kerri Verna's popular Instagram account.
Read more:
The 7 Best Yoga Poses For Your Health
Take A Deep Breath For Stress Relief: Yoga Could Help Improve Mood, Reduce Waist Size, Study Says
Published by Medicaldaily.com