In New Abortion Battle, Planned Parenthood Sues Arizona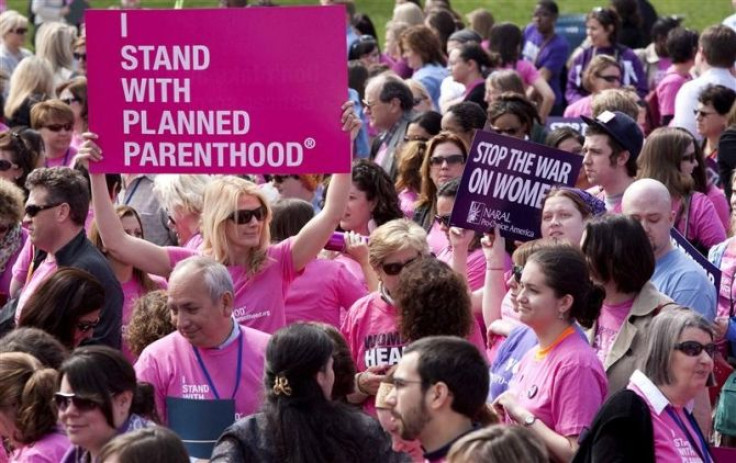 Planned Parenthood on Monday sued the state of Arizona in an effort to overturn a law that blocks funding for its health clinics because the organization also performs abortions.
The law, signed by Governor Jan Brewer in May, is part of a national campaign against Planned Parenthood orchestrated by conservatives Republican lawmakers who oppose abortions. In the past two years, 13 states have taken steps to eliminate funding for Planned Parenthood, and the organization has filed lawsuits in six of them, including Arizona.
Planned Parenthood says abortions account for only 3 percent of its services, which include cancer screening and birth control.
"It is wrong for the state to tell Arizonans who they can and cannot see for their healthcare. The men and women of this state have the right to see the healthcare provider they deem is best for them," said Bryan Howard, president and chief executive officer of Planned Parenthood Arizona. The group, whose legal team for the case includes the American Civil Liberties Union, filed the suit in U.S. District Court in Arizona, according to Planned Parenthood.
Amy Rezzonico, spokeswoman for state Attorney General Tom Horne, said the attorney general had not yet seen a copy of the complaint and declined comment.
Planned Parenthood has won injunctions in five states -- Indiana, Kansas, North Carolina, Tennessee and Texas -- arguing that it is being punished for providing constitutionally protected services and that women's access to preventive healthcare is being blocked.
The lawsuit challenging the Arizona law is the latest salvo in trench warfare between conservative Republicans and Planned Parenthood across the country.
"We're in court and in legislatures in almost every state in the country," said Cecile Richards, president of Planned Parenthood Action Fund. "It has just gotten crazy. This is what I hear from women -- Republican women, independent women all over the country: They cannot believe that the Republican Party leadership is on a crusade to end birth-control access in America."
A DIFFERENT ERA
The issue of reproductive rights was not always a partisan one, as the history of Planned Parenthood in Arizona shows. Peggy Goldwater, the wife of conservative icon Barry Goldwater, the U.S. senator and 1964 Republican presidential nominee, was a co-founder of Phoenix's Planned Parenthood in the 1930s.
Some years later, when Peggy's college-age daughter Joanne became pregnant before she was ready to have a family, it was Barry Goldwater who arranged an abortion, Joanne Goldwater said.
In those days before the Supreme Court's 1973 Roe v. Wade ruling made abortion legal, Joanne Goldwater had to stand on a street corner waiting for a van to take her to a remote house, where the procedure was done on a table, she said.
"I will absolutely never forget that as long as I live," Joanne Goldwater said. "That night was just imprinted in my mind. I wouldn't want any young person to have to go through it. It was a traumatic experience for me."
Joanne Goldwater's daughter CC Goldwater, a political independent, has continued the family tradition and serves as a trustee of Planned Parenthood in Arizona.
"To see the funding be taken away -- it's just ignorance; it's unbelievable," said Barry Goldwater's granddaughter.
A FACTOR IN NOVEMBER?
Activists have recently broadened their focus beyond restricting access to abortion to cutting funds for family planning. They say it is not right to force taxpayers to send money to Planned Parenthood because it is impossible to separate its family planning services from the abortions it provides.
"Legislators want to enact policies that protect taxpayers from subsidizing the abortion industry," said Elizabeth Graham, director of Texas Right to Life. "They've sent a clear message to Planned Parenthood or any other agency that provides abortion: Stop doing abortion, and you can have all the health-care dollars you want."
Planned Parenthood oversees a network of nearly 800 clinics offering birth control, gynecological exams and care for sexually transmitted diseases. It gets almost half its revenue, $488 million in 2010, from government grants and reimbursements for services to low-income women. It is the nation's largest provider of abortions, but it says only about 12 percent of Planned Parenthood patients receive abortions.
Last year, Republicans unsuccessfully tried to end federal funding for Planned Parenthood, and presumptive Republican presidential candidate Mitt Romney has vowed to "get rid" of Planned Parenthood.
The issue has not been prominent in the presidential election campaign, but Mark Jones, chairman of the political science department at Rice University in Houston, said that could change in the runup to November.
Romney is fighting an uphill battle to win the votes of white women, and if Planned Parenthood and others succeed in convincing women that abortion rights are threatened, he said, some voters could turn out who otherwise would not vote.
"He's much better off if economic issues are highlighted rather than social issues," Jones said.
Planned Parenthood and its supporters say the latest assault threatens to leave low-income people without access to cancer screenings and birth control. It is fighting back by raising money, beefing up its legal team and campaigning against state and federal candidates such as Romney.
STATE-BY-STATE STRATEGY
The Arizona law challenged by Planned Parenthood on Monday could mean that almost 3,000 Medicaid patients receiving birth control and other preventive care at Planned Parenthood will no longer be eligible, said Howard of Planned Parenthood Arizona, who is a Republican.
The lawsuit comes less than a week after the Center for Reproductive Rights and the American Civil Liberties Union in Phoenix filed a lawsuit challenging another Arizona law that bans most abortions after 20 weeks of pregnancy. The 20-week limit is based on controversial research suggesting a fetus feels pain by that stage of development.
Anti-abortion advocates have long wanted to target Planned Parenthood, but until recently it was not politically feasible, said Marjorie Dannenfelser, president of the Susan B. Anthony List, a Washington, D.C., group that works to elect anti-abortion candidates.
"No one wanted to be perceived as being against family planning," said Dannenfelser, who said her group co-wrote model state legislation that was the basis for the Arizona law. "Any effort to defund (Planned Parenthood) was doomed to fail."
That changed in 2010, after anti-abortion Republicans swept federal and state elections. Richards said Planned Parenthood's state and federal battles stem from a proposal by U.S. Representative Mike Pence, an Indiana Republican who last year spearheaded an unsuccessful effort to strip funding for Planned Parenthood from the federal budget. Pence is the Republican nominee for governor of Indiana in the November election.
Pence's proposal followed the release of videos by an anti-abortion group that showed Planned Parenthood workers agreeing to help underage prostitutes get abortions. Planned Parenthood has said the videos were deceptively edited but that it would retrain its staff.
Pence's campaign made it politically acceptable to attack Planned Parenthood, Dannenfelser said.
"There was a low rumbling that got louder, there was a tipping point, and now there is great momentum," she said.
There is momentum on Planned Parenthood's side, too.
In the past year it has gained more than 1.5 million supporters, financial and otherwise, Richards said.
At the end of May, Planned Parenthood Action Fund announced its endorsement of Obama and said it would spend more than $1.4 million on an anti-Romney ad campaign.
"We're going to make sure every woman in America knows where candidates stand," Richards said. "What we have seen consistently is that when a politician says they're going to get rid of Planned Parenthood, women don't support them."
During the 2010 election, Planned Parenthood political and advocacy organizations spent more than $900,000 on federal elections, mostly through ads benefiting Democrats, according to the Center for Responsive Politics.
Anti-abortion groups vow to keep the pressure on Planned Parenthood by scouring state budgets to identify and try to eliminate tax dollars for the group.
"We're making sure that we've found all the money, and we'll take it away if there's any left," said Texas Right to Life director Graham.
@ 2012 Thomson Reuters. All rights reserved.