New Poll: Americans Trust Congress as much as Telemarketers and Cars Salespeople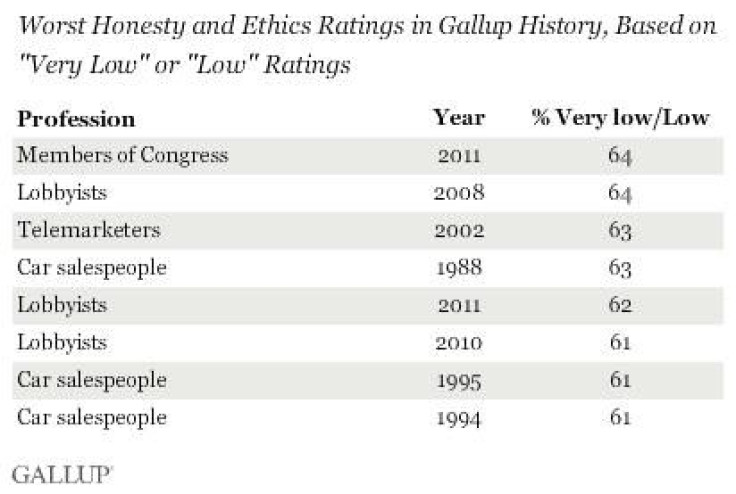 According to a new poll released by Gallup, 64 percent of Americans rate the honesty and ethical standards of members of Congress as "low" or "very low," tying record lows for any profession Gallup has measured historically.
Gallup has been asking Americans to rate the honesty and ethics of numerous professions since 1976, and the abominable rating for today's Congress is in line with the likes of lobbyists, telemarketers, and car salespeople for the worst rating of all time.
This year's update, from a Nov. 28-Dec. 1 Gallup poll, found Americans rating the honesty and ethical standards of nurses, pharmacists, and doctors the highest of the 21 professions tested.
According to Gallup, Congress members' honesty and ethics ratings have never been that positive, averaging 15 percent very high or high and peaking at 25 percent in 2001. But the number of Americans rating Congress as very low or low has risen from 22 percent in 2001 to 64 percent today.
The results are consistent with Congress job approval ratings, also hitting a record low at 13 percent in November.
Gallup blames the poor economy and Congress' inability to address key issues facing the country, including jobs and the federal budget deficit, for example the failure of the supercommittee to reach agreement on deficit reduction.
Results for the poll were based on telephone interviews conducted Nov. 28-Dec. 1, 2011, with a random sample of 1,012 adults.
Published by Medicaldaily.com