New Viagra Commercial Features A Woman — Not A Man — Discussing The ED Drug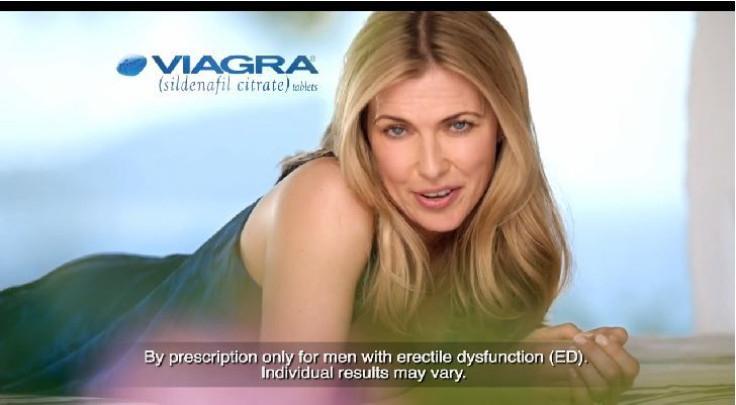 The first Viagra TV commercial advertising the world's top-selling erectile dysfunction drug to women, and not men, will begin airing Tuesday on shows, including "CSI," "Blue Bloods," and "48 Hours," The Associated Press reported. The new commercial from Pfizer, maker of the drug, features a beautiful, well-kept middle-aged model with a European accent who speaks directly to the camera while lying on a bed.
"Plenty of guys have this issue, not just getting an erection, but keeping it," she says, before walking along a beach, her dress fluttering behind her. Previous ads for the sildenafil citrate have featured middle-aged men working on construction sites or a fishing boat. Not only are the commercials undergoing a sex change, then, they also appear to be targeting a different class.
Why the new ad (here) for a drug that achieved direct product revenues of more than $1 billion last year?
Pfizer will soon lose its monopoly on sildenafil citrate to generic manufacturers. The Food and Drug Administration first approved Viagra on March 27, 1998. At the time, it was the first oral pill to treat impotence, a dysfunction that affects millions of men in the United States alone. However, in June 2010, Pfizer lost its patent in Brazil to exclusively sell the drug. While last year, Pfizer's patent for Viagra expired in Europe and Japan. In December 2013, Israel-based Teva Pharmaceutical won a settlement allowing it to launch a generic version of Viagra in the U.S. on Dec. 11, 2017 or earlier, though it will pay Pfizer a royalty.
Normally, patents give a drug a monopoly for about 20 years and following the flood of cheap generic versions on the market following expiration of the patent, most of the brand-name drug's sales dry up within a year. Forbes forecasts a decline in the global market for branded erectile dysfunction drugs at a compounded annual rate of 4.5 percent from 2013 to 2019. Increasingly, Viagra faces tough competition from other drug manufacturers. Beside Viagra, heavy hitters in the current erectile dysfunction market include Cialis (tadalafil) approved in 2003, Levitra (vardenafil) approved in 2003, Stendra (avanafil) approved in 2012.
Importantly, erectile dysfunction drugs are prescribed by primary care physicians who now have the opportunity to recommend other brands, depending on a man's lifestyle and need. Although all the drugs work in a similar way to cause erections, the differences lie in how quickly and how long a particular formula works. For instance, though Viagra lasts about four hours, Cialis lasts up to four times longer and so can be taken hours before intercourse, offering a longer window of opportunity. Conversely, Stendra takes effect nearly immediately — in as little as 15 minutes — and lasts up to six hours.
With its new Viagra commercials, then, Pfizer is at once pre-positioning its product for a more affluent market, which will be necessary once generics enter the fray and cost-conscious consumers have the opportunity to buy cheaper drugs, while also encouraging women to weigh in on men's ED decisions. After all, women frequently assume the role of family health care decision-makers, making approximately 80 percent of health care choices, according to a Kaiser Family Foundation report. Women's influence is also moving to a wider sphere, with nearly 70 percent of women using social networking sites and listening to their online communities regarding their health care options, or so suggests Pew Internet Project research.
Published by Medicaldaily.com