New York Firefighters Raise Awareness For Rett Syndrome During Annual Stair Climb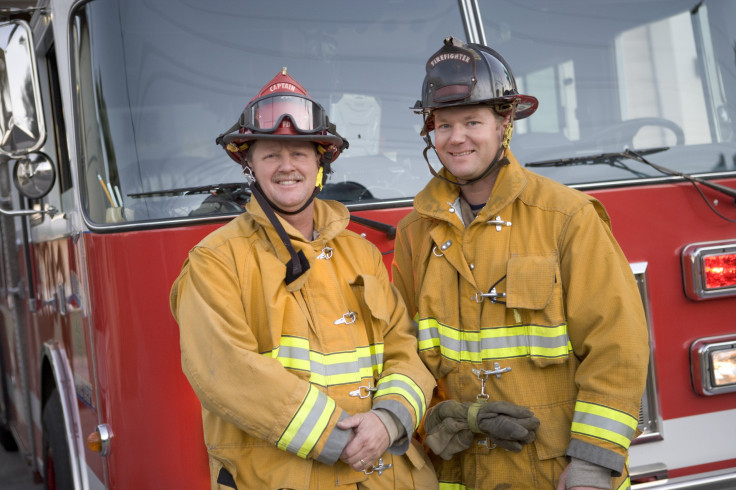 New York City firefighters will join children living with Rett syndrome and their parents for an annual stair climb at the Tweed Courthouse in Manhattan on Saturday to raise awareness for the disorder, and also to remind the patients what they're capable of.
"As firemen we help people, no matter the situation," Kenny Lynch, a Queens firefighter whose own daughter has Rett, told the NY Daily News. "That's what we do."
Rett Syndrome is a rare disorder that affects only one in 10,000 children in the U.S., most of whom are female. Within the first year of their lives, children born with Rett are often quite healthy and seemingly symptomless, but they slowly begin to show delays in growth, speech, standing, and eating after their first year. While their bodies and brains function normally, neurological delays cause information from the brain to not always reach its destination. This creates difficulties in standing, using their hands, eating, and talking.
"It is a human tragedy being trapped, not being able to express yourself," Dr. Aleksandra Djukic, a director of the Tri-State Rett Syndrome Center at the Children's Hospital at Montefiore, told the Daily News. "They cannot talk, [but] it does not mean they have nothing to say."
In fact, most girls with Rett Syndrome are just as developed mentally as any other kids their age. Take Ysolde Stienon, for example, a 19-year-old with Rett Syndrome who will be participating in the annual climb. When Ysolde was diagnosed with Rett, doctors assumed she wouldn't live past 18. But she's been doing well as a normal teenager who enjoys listening to music, watching movies, and learning. Specialized teachers come to her house to instruct her in reading and writing; she uses a computer to communicate.
Ysolde's parents were distraught and discouraged when they first read about Rett syndrome. "Online, the description was very depressing and hopeless sounding, yet we could see in our daughter she had so much life and positive energy," Ysolde's father, Christopher, told the Daily News. "We couldn't believe that'd be the long-term prognosis." As a result, they believed in Ysolde's progress and have helped her become the well-rounded girl she is today.
According to the National Institutes of Health (NIH), Rett syndrome is caused by a mutation in the methyl CpG binding protein 2, also known as MECP2. While the disease is a genetic disorder, it's not always inherited; in fact, most cases occur randomly. There is no cure for Rett syndrome, and treatment involves focusing on management of symptoms, a supportive approach. Medication can be given to patients if they have breathing or motor problems, and seizures can be treated with anticonvulsant drugs. Many patients undergo physical therapy, or require aids like braces, splints, and nutritional programs.
But scientists are hopeful that proper treatment — and even a cure — could be possible soon. "Our confidence stems from scientific evidence," the Rett Syndrome Research Trust writes on its website. "The fact that there is no degeneration in the brain sets the disorder apart from many other neurological diseases, and the dramatic reversibility of symptoms in the mouse model brings optimism to families and enthusiasm to the research community." In 2007, scientist Adrian Bird discovered a way to reverse neurological defects in mice; the study was published in Science and remains one of the breakthrough works on the disease.
Until a cure is discovered, meanwhile, girls with Rett syndrome will join the New York firefighters to make their climb. "The Fire Department is like an extension of my family and I'm overwhelmed by the support," Lynch said in 2012. "This is what I love most about the Department, the sense of community, togetherness, and brotherhood." He continued: "Last year the parents and kids really seemed overwhelmed that a firefighter would take time to come and do this for them. You could see it in their eyes."
Published by Medicaldaily.com