NFL Commissioner Roger Goodell Apologizes For Ray Rice Decision, Implements Stricter Penalties For Domestic Abuse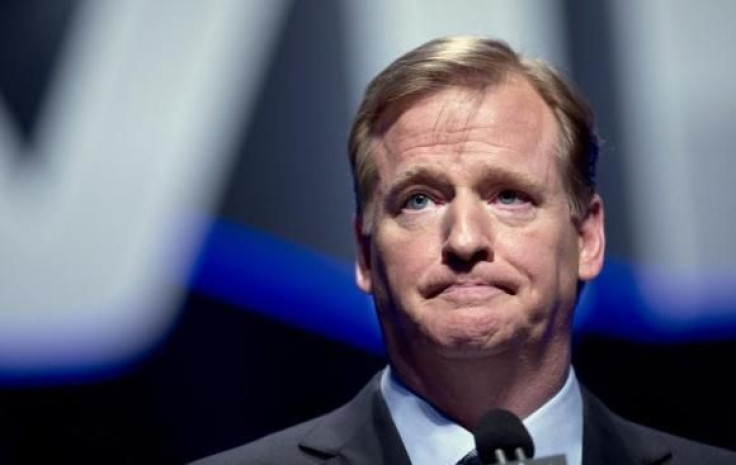 Following a two-game suspension handed down to Baltimore Ravens running back Ray Rice over domestic abuse charges, NFL Commissioner Roger Goodell received a lot of criticism due to his decision, which he initially defended. In an open letter to NFL team owners, Goodell not only owned up to his mishandling of Rice's suspension and $58,000 fine, but also introduced the league's new Personal Conduct Policy for assault, battery, domestic violence, and sexual assault cases, carrying the possibility of a six-game suspension for the first offense followed by a lifetime ban for the second offense.
"At times, however, and despite our best efforts, we fall short of our goals. We clearly did so in response to a recent incident of domestic violence," Goodell said in the letter. "We allowed our standards to fall below where they should be and lost an important opportunity to emphasize our strong stance on a critical issue and the effective programs we have in place. My disciplinary decision led the public to question our sincerity, our commitment, and whether we understood the toll that domestic violence inflicts on so many families. I take responsibility both for the decision and for ensuring that our actions in the future properly reflect our values. I didn't get it right. Simply put, we have to do better. And we will."
Rice's two-game suspension also coincided with a yearlong ban for Cleveland Browns wide receiver Josh Gordon for violating the league's substance abuse policy. While the NFL's policy on domestic abuse was not set in stone before its decision this past Thursday, the league's current substance abuse policy has been in place since 2010. Goodell met with officials from the NFL Players Association, team executives, and anti-violence experts to hammer out the details of the NFL's Personal Conduct Policy. In addition to guidelines for punishing domestic violence offenders, Goodell also promised to "incorporate domestic violence and sexual assault awareness and prevention into our public service work."
"Effective immediately, violations of the Personal Conduct Policy regarding assault, battery, domestic violence or sexual assault that involve physical force will be subject to a suspension without pay of six games for a first offense, with consideration given to mitigating factors, as well as a longer suspension when circumstances warrant," Goodell said, adding:
Among the circumstances that would merit a more severe penalty would be a prior incident before joining the NFL, or violence involving a weapon, choking, repeated striking, or when the act is committed against a pregnant woman or in the presence of a child. A second offense will result in banishment from the NFL; while an individual may petition for reinstatement after one year, there will be no presumption or assurance that the petition will be granted. These disciplinary standards will apply to all NFL personnel.
Published by Medicaldaily.com