NFL Pressures ESPN Frontline To End Production Of 'League Of Denial', Documentary On Head Injuries In Sport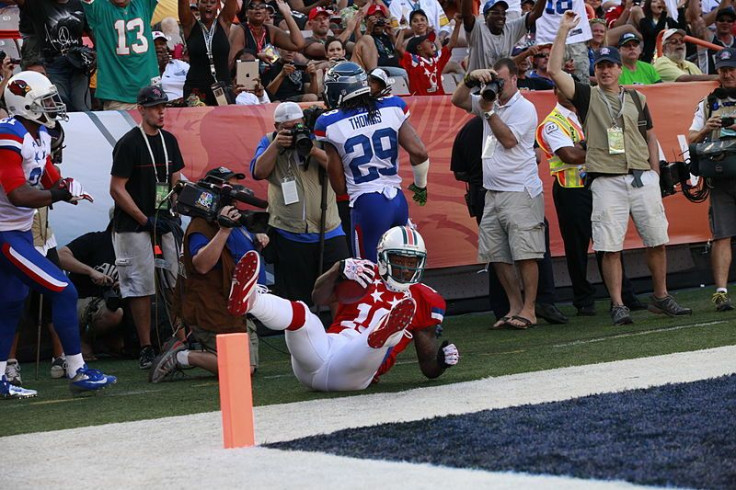 League of Denial, a Public Broadcasting System (PBS) documentary about the National Football League's (NFL) "blind eye" to the growing number of brain trauma cases among players, has lost an influential collaborator — ESPN. The U.S. sports broadcasting station decided to pull out of the Frontline project on Thursday after allegedly receiving pressure from the NFL, the New York Times reports.
According to two inside sources, who have requested to remain anonymous because their superiors forbid them to discuss this matter publicly, claim that ESPN encountered a lot of pressure from the League after the release of a trailer for the documentary at a Television Critics Association event in Beverly Hills, Calif. ESPN's withdrawal from the project came as a surprise for Frontline's deputy executive producer, Raney Aronson-Rath, who has been working on the project with ESPN for 15 months. "We were about to share a cut of our film with them," said Aronson-Rath. "We welcomed their input."
ESPN currently denies claims that it received any sort of pressure from the NFL. Chris LaPlaca, ESPN spokesman, said the broadcasting station's decision to pull out from the project was unrelated to its contract with the NFL. The reasoning allegedly has to do with having editorial control of what appeared on public television in the documentary. "Because ESPN is neither producing nor exercising editorial control over the 'Frontline' documentaries, there will be no co-branding involving ESPN on the documentaries or their marketing materials. The use of ESPN's marks could incorrectly imply that we have editorial control," said ESPN in a statement.
Throughout the 15 months of work with PBS, ESPN executives were made aware of the negotiations under which the documentary would be produced. Aronson-Rath shared with the New York Times that it has been made clear since the initial start of the project that Frontline would keep editorial control on what it aired on TV or posted on its websites.
ESPN's decision to remove itself from the project was originally reported to be done at a lunch meeting near the NFL's Manhattan headquarters, said the two anonymous sources to the New York Times. The meeting was said to be based on the league's dissatisfaction with the direction of the project due to an exposé of a decade's worth of reports showing the league's ignorance of the growing number of brain traumas.
NFL spokesman Brian McCarthy told Reuters that the lunch was not specifically held to tell ESPN to leave the project. "We meet with our business partners on a regular basis and this was not unusual," McCarthy said via e-mail to Reuters. "It is not true that we pressured ESPN to pull out of the film."
Aronson-Rath begs to differ and told the New York Times, "It didn't appear that it was their decision," referring to Vince Doria, ESPN's senior vice president, and Dwayne Bray, senior coordinating producer of ESPN's news unit. Bray's excitement for the collaboration between ESPN and PBS was echoed at the Television Critics Association event on Aug. 6, when he shared his admiration for Frontline and what this meant for the sports broadcasting station. "So we respect 'Frontline' greatly. They respect us. And the N.F.L. is going to have to understand that," he said.
Recent studies acknowledge the growing presence of CTE (chronic traumatic encephalopathy), a brain disease that can cause long-term cognitive disability, in professional football players. CNN reported that, in a study on football, 34 out of 34 football players showed evidence of the brain disease. Symptoms affiliated with the later stages of CTE include rage, aggression, and suicidal thoughts.
NFL players and their wives are fighting back about the league's lack of disclosure on the potential long-term dangers of blows to the head. Currently, 4,000 players agree that the league has not issued adequate warnings about these dangers, despite the recent studies that affirm brain trauma can lead to serious symptoms and illnesses.
League of Denial is a two-part documentary that is scheduled to air on October 8th and 15th.
Published by Medicaldaily.com