NYC Smoking Rates Rise, Despite Dropping Overall In US: What's To Blame?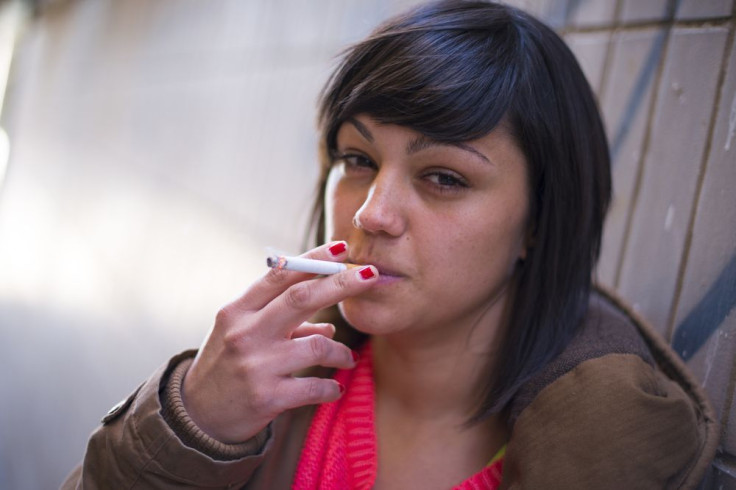 While the majority of the country celebrates decreasing smoking rates, and the subsequent longer lives of those who either quit or never started, more New Yorkers can breathe in the secondhand smoke of the person with a cigarette next to them. That's because new findings from New York City's Health Department put smoking rates at two percent higher than they were in 2010, when they were their lowest. In a city of over eight million, that's a lot of new smokers.
Smoking rates were at an all-time low in 2010, when only 14 percent of New Yorkers reported smoking. Since then, rates have climbed steadily, with 16.1 percent of New Yorkers reporting smoking in 2013 — the highest rate in NYC since 2007. "We've had a plateau in the smoking rate for a couple of years, but now it is a statistically significant increase," city health commissioner Dr. Mary Bassett told The Associated Press. "We now know the risk is real and we aim to do something about it."
NYC smokers got lots of heat during the 12 years Michael Bloomberg was mayor. During that time, he implemented laws banning smoking in restaurants and bars, and later, in other public areas like parks and beaches. Though his plans were initially met with opposition, they were eventually lauded for their success in reducing smoking rates. But as Bloomberg started looking to implement other public health initiatives, such as his failed soda ban, smoking rates began to climb again.
In addition to that, Bassett also blamed city budget cutbacks for fewer antismoking campaigns, and termination of programs such as one that gave smokers nicotine replacements. "We know we haven't been able to maintain the foot on the gas in the same way."
Speaking to The Wall Street Journal, however, Dr. Georges Benjamin, executive director of the American Public Health Association, said that these decreases in funding run parallel to tobacco-control funding in the rest of the country. "We have this terrible, terrible habit: We celebrate gains and the resources get pulled away from us. Then, the problem gets worse or plateaus, and then everyone wants to know why."
Overall, the Health Department found that smoking was up among all races, ages, and boroughs. More men smoked than women, with rates coming in at 20 percent and 12.5 percent, respectively. Whites were the most likely to be smokers, comprising 18.6 percent of total smokers, while Asian New Yorkers were the least likely to smoke, making up only 14 percent of smokers. Almost 65 percent of all smokers reported trying to quit over the past year.
The survey also saw an increase in smokers who said they smoked only occasionally, giving the Health Department a good target for their next campaign. Bassett said their $830,000 ad campaign will target people who don't believe they smoke enough for it to be harmful. "This is a product that's not safe in any amount," she said.
Cigarette smoke holds over 7,000 chemicals, of which 69 are known carcinogens. Smoking contributes to a person's risk of developing cancer, chronic obstructive pulmonary disease, heart disease, stroke, diabetes, and many illnesses. Despite a rise in smoking rates, New York still has a lower smoking rate than in 2002, when it was over 21 percent, as well as the rest of the country, which currently stands at 18 percent.
Published by Medicaldaily.com