Obama Announces Birth Control Compromise to Quell Mounting Debate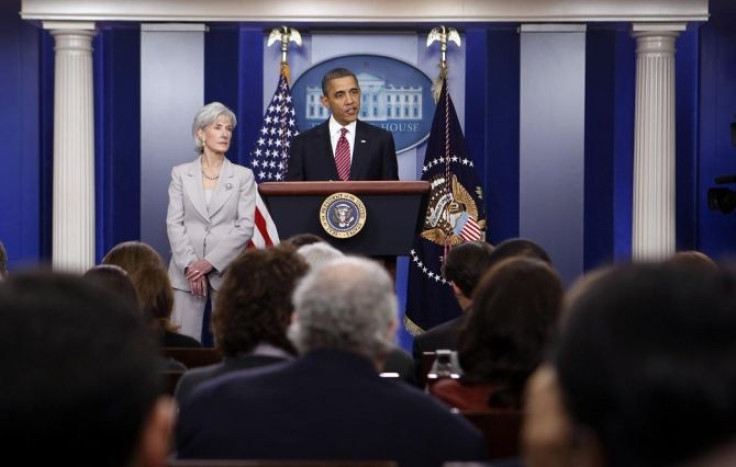 President Barack Obama, in an abrupt policy shift aimed at appeasing the political firestorm that threatened to consume his administration, announced on Friday that religious employers will not be required to offer free birth control to workers and that the obligation would instead be put on health insurance companies.
The president's compromise aimed to appease outrage from religious organizations like the Catholic hospitals and universities that were against the a recent requirement that required church-affiliated employers to provide free birth control coverage even if it goes against their religious beliefs.
"Religious liberty will be protected and a law that requires free preventative care will not discriminate against women," Obama told reporters in the White House briefing room.
"I understand some folks in Washington want to treat this as another political wedge issue. But it shouldn't be. I certainly never saw it that way," Obama said. "This is an issue where people of good will on both sides of the debate have been sorting through some very complicated questions."
The president's birth control compromise was an attempt to satisfy both sides of a very sensitive debate and to end a mounting political catastrophe for his administration.
Although the White House had initially given itself more than a year to determine the details of the new birth control coverage requirement for religious employers, Obama said that the situation had become unsustainable and called for a swift solution.
Religiously-affiliated non-profit employers like schools, charities, universities, and hospitals will be exempt from the new required birth control coverage rule, but insurance companies with birth control plans will have to offer those employees the opportunity to get additional contraceptive coverage directly with no additional charge.
However churches are fully exempted from the new requirement and their workers will not have the option of getting separate contraceptive coverage under the new compromise.
The new birth control requirement had ignited harsh condemnations from Catholic Church leaders, Republican lawmakers and other conservatives who denounced the rule as an attack on religious freedom as well as some of Obama's top advisers.
Insurance company Aetna Inc. said it would submit to the new requirement but needed to "to study the mechanics of this unprecedented decision before we can understand how it will be implemented and how it will impact our customers."
Republicans as well as GOP presidential candidates took the opportunity to proclaim Obama as anti-religion that overshadowed recent signs of economic improvement that appeared to have strengthened his re-election bid.
"I've been confident from the start we could work out a sensible approach here," the president added. "Some folks in Washington may want to treat this as another political wedge issue, but it shouldn't be. I never saw it that way. It's people with goodwill on both sides of the debate sorting through a complicated issue to find a solution that works for everyone. Today's announcement has done that."
White House officials said the President had called Archbishop Timothy Michael Dolan, Sister Carol Keehan, president of the Catholic health group, and Planned Parenthood President Cecile Richards to explain the new rules, according to Washington Post.
A senior White House official told reporters during a conference call that the impact of the compromise on insurers would be cost neutral and potentially even cost-saving because it would reduce the need to provide medical coverage related to unwanted pregnancies and other conditions that can be prevented with birth control, according to the paper.
Many groups and lawmakers quickly applauded the new adjustment and the White House said that the two organizations that had disagreed initially, Planned Parenthood, which supported the original rule, and the Catholic Health Association, which opposed it, released statements that agreed with the new policy.
Sister Keehan said her organization was "very pleased" with the announcement, that "it has helped our country sort through an issue that has been important throughout the history of our great democracy," according to Keehan's statement.
Cecile Richards, president of Planned Parenthood Federation, issued a statement saying the new plan "does not compromise a woman's ability to access these critical birth control benefits."
Surveys had indicated that a majority of Americans and Catholics support the rule. Last week a survey taken by Public Religion Research Institute found that 55 percent of Americans and nearly 60 percent of Catholic respondents want employers to cover contraception and birth control.
Video: President Obama Speaks on Contraception and Religious Institutions
Published by Medicaldaily.com