Obama Appoints Ron Klain To Handle Ebola; Texas Health Worker Isolated On Ship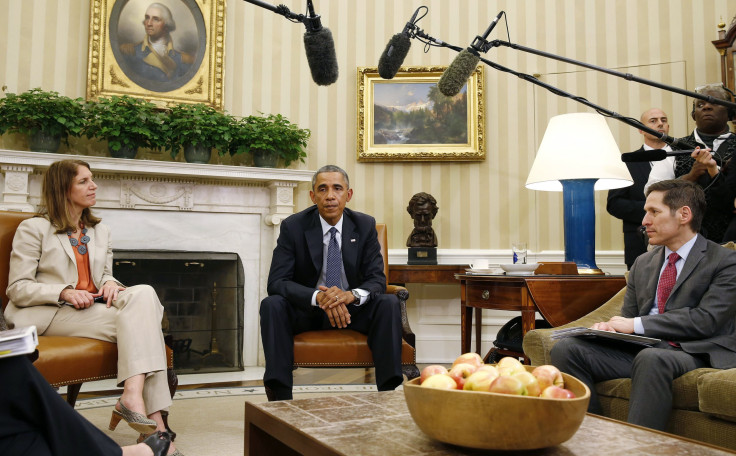 WASHINGTON (Reuters) - President Barack Obama appointed an Ebola czar for the United States on Friday, and the government said a Texas health worker who may have had contact with specimens from an Ebola patient was isolated on a cruise ship.
Obama, who has faced sharp criticism from some lawmakers over efforts to contain the deadly virus, appointed Ron Klain, a lawyer who previously served as chief of staff to Vice Presidents Joe Biden and Al Gore, the White House said.
The cruise ship incident added to growing concerns about the possible spread of Ebola after two nurses who cared for Thomas Eric Duncan, the first person diagnosed with Ebola in the United States, contracted the virus, which has killed nearly 4,500 people, mostly in West Africa.
The worst hit countries have been Guinea, Liberia and Sierra Leone, and the World Food Program said on Friday that food prices in those countries has risen by an average of 24 percent, forcing some families to reduce their intake to one meal a day.
The Texas Health Presbyterian Hospital worker aboard the cruise ship, who did not have direct contact with the now-deceased Liberian patient but could have processed his bodily fluids, left Sunday on a cruise from Galveston, Texas, State Department spokeswoman Jen Psaki said in a statement.
The health worker has been self-monitoring since Oct. 6 and has not developed a fever or other symptoms of Ebola, the State Department said. Carnival Cruise Lines said Friday it had been notified by the U.S. Centers for Disease Control and Prevention (CDC) that a passenger on the Carnival Magic was a lab supervisor at Texas Health Presbyterian. It said she was deemed to be "very low risk."
The ship can carry 3,690 passengers and 1,367 crew, according to the company's website. Carnival is owned by Carnival Corp.
The State Department said the worker may have processed samples from Duncan 19 days ago. The maximum incubation window for the disease is 21 days, according to the CDC.
The worker and a companion voluntarily isolated themselves in their cabin.
"We are working with the cruise line to safely bring them back to the United States out of an abundance of caution," Psaki said in the statement.
The government of Belize said in a statement that it had denied a request by U.S. officials to use a Belizean airport to transport a cruise ship passenger who was considered very low risk for Ebola.
"The passenger never set foot in Belize," the statement said. "When even the smallest doubt remains, we will ensure the health and safety of the Belizean people."
TRAVEL BAN?
U.S. lawmakers held a congressional hearing about the administration's handling of the Ebola outbreak in the United States, and some called for a ban on travel from West Africa, as other politicians have in recent weeks.
Obama said he had no philosophical objection to a travel ban but that some travelers might attempt to enter the United States by avoiding screening measures, which could lead to more Ebola cases, not fewer.
On Thursday, he authorized calling up military reservists for the U.S. fight against Ebola in West Africa.
U.S. Federal Aviation Administration chief Michael Huerta told reporters separately that the government was assessing whether to issue a travel ban "on a day-to-day basis."
n a sign the disease can be beaten, the World Health Organization said on Friday that the West African country of Senegal was now Ebola-free, although the country was still vulnerable to further cases.
(Additional reporting by Doina Chiacu, Mohammad Zargham, Steve Holland and Jeff Mason in Washington, Jonathan Kaminsky in New Orleans and Curtis Skinner in San Francisco; Writing by Jim Loney; Editing by Bernadette Baum and Jonathan Oatis)
Published by Medicaldaily.com