Obama Reveals $133 M Plan To Fight Nation's Heroin Epidemic, Prescription Drug Abuse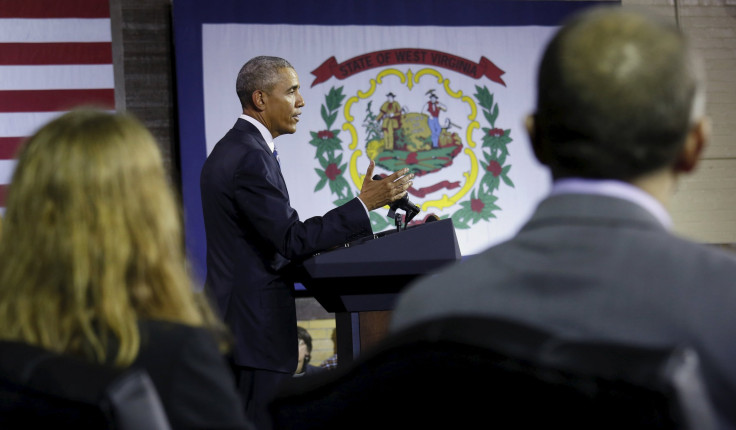 President Barack Obama shared The White House's plan to drive down increased rates of overdose deaths and prescription drug abuse during a visit to Charleston, W.Va., on Wednesday. Rumors of a dedicated plan first surfaced back in August, when the Washington Post reported a millions-dollar program was in the works to cover 15 states.
The Centers for Disease Control and Prevention (CDC) reported that people who are addicted to prescribed opioid painkillers are 40 times more likely to be addicted to heroin. Obama himself cited that painkillers are "the most likely path" to abusing heroin, with more Americans dying from overdose than they do motor vehicle crashes every year. He added that this is a national problem, an illness, "and we got to treat it as such."
Al Jazeera America cited that the rate of overdose deaths in West Virginia is more than twice the national average — a "shocking number to see," Charleston resident Matthew Sutton said when speaking with NPR. But, Sutton said that when you talk to other locals, it's actually not that surprising. Charleston police chief, Brent Webster, went so far as to say Charleston is "a community of zombies walking around in need of treatment."
"I don't think you could talk to somebody in Charleston who doesn't know somebody who's been impacted by the drug problem over the last several years," Sutton said.
Obama is ordering federal agencies that employ health care providers to offer training on prescribing painkillers, while also asking them to review their health insurance plans and addressing policies that might prevent patients from receiving medication as part of their treatment — two modest efforts, according to Al Jazeera. Overall, The White House is investing $133 million for new treatment programs, in addition to expanding access to medications that can help addicts transition off other opioids.
Since 1999, the amount of prescription painkillers prescribed and sold in the U.S. has nearly quadrupled, the CDC said. This increase access, alongside the increased availability of cheaper heroin, are why states, like West Virginia, Chicago, and Ohio are seeing higher incidence and mortality rates.
Eyes are on the 2016 presidential candidates too — Democratic and Republican alike — as people look more to the government for a policy response, Al Jazeera said. Former secretary of state Hillary Clinton has proposed a $10 billion plan that promotes treatment over incarceration, while Governor Chris Christie (R-N.J.) has visited drug rehabs to "talk up his work to create drug courts at home that mandate treatment over jail time for non-violent offenders."
The CDC rules that "responsible prescribing can save lives," and providing patients with safe, effective, and evidence-based ways to reduce pain in turn reduces misuse, abuse, and/or overdose.
Published by Medicaldaily.com