Oklahoma Tornado Devastates Moore Hospital, Victims Evacuated [PHOTOS]
Today's devastating tornado in Moore, Okla. incapacitated the Moore Medical Center, a small hospital about 10 miles south of Oklahoma City, forcing it to evacuate patients and redirect victims of the massive damage to other health centers.
"It's destroyed, and we are in the process of transporting all these patients — there were 13 of them in my estimation-to other hospitals," Kelly Wells, a spokeswoman for the Norman Regional Health System, told Modern Healthcare.
The second floor of the Moore Medical Center was completely demolished, though Wells said the staff did not suffer any injuries.
The Oklahoma hospital is normally equipped to provide 24-hour emergency services, but victims in the area will have to find their way to other medical centers in the area, said Wells.
CNN reported that patients from the Moore Medical Center were being sent to the nearby Norman Regional Hospital and HealthPlex Hospital, and all the patients normally under the purview of Moore were also being told to go there.
In the aftermath of the tornado, 65 patients were being treated at Oklahoma University Medical Center, according to CNN.
The tornado, which was reported to be at least two miles wide during its most destructive moments, decimated about 300 homes in the Moore area.
At last count, at least 51 people in Moore were killed by the tornado, at least 20 of whom were children. At least 145 others have been hospitalized in the Oklahoma City area.
Jeff Hamilton, regional manager of emergency operations for the Mercy Health system in Missouri, told Modern Healthcare that most of the Oklahoma tornado-related injuries will probably happen in the next two to three days, when people try to sort through the wreckage of their homes — a lesson he learned from dealing with the aftermath of the devastating tornado in Joplin, Missouri, two years ago.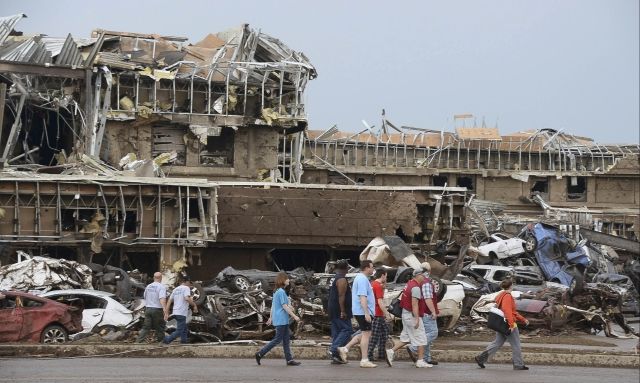 Published by Medicaldaily.com