Olivia Newton-John Cancels Tour After New Breast Cancer Diagnosis 25 Years After Mastectomy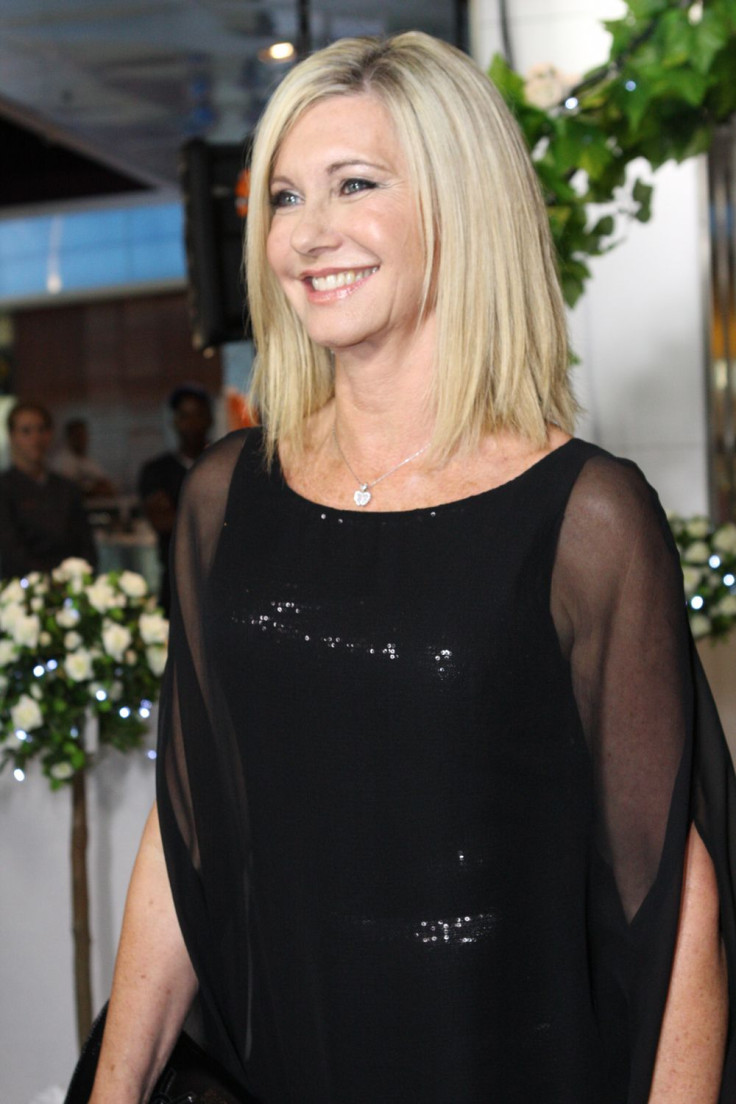 Actress and singer Olivia Newton-John announced yesterday that her tour is on hiatus while she gets treatment for breast cancer. This is the Grease star's second battle with breast cancer. She was originally diagnosed in 1992 and underwent chemotherapy and a partial mastectomy at the time, reports CNN.
Read: If You Want To Reduce Your Risk Of Breast Cancer, Reduce Overall Body Fat, Not Belly Fat
The news about Newton-John's diagnosis was posted on the star's Facebook fan page. The letter explains that back pain, which caused the star to postpone the first half of her Canadian and United States tour, turned out to be breast cancer that metastasized to the sacrum. She will undergo natural therapy in addition to photon radiation therapy and believes she'll be able to complete the tour later this year.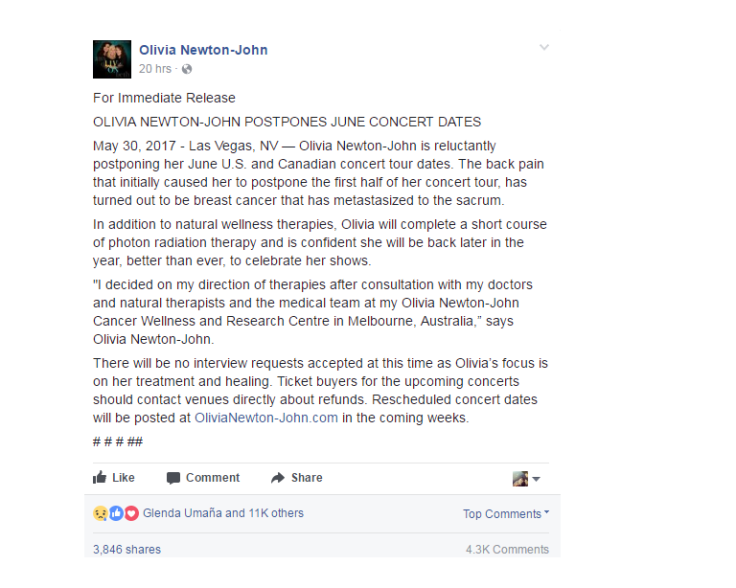 "I decided on my direction of therapies after consultation with my doctors and natural therapists and the medical team at my Olivia Newton-John Cancer Wellness and Research Centre in Melbourne, Australia," says Newton-John in the statement on Facebook.
It's been 25 years since the singer was first diagnosed with breast cancer. Newton-John is experiencing what is known as distant recurrence, or metastasis, which is when the cancer spreads to organs outside of the breast like bones, liver and lungs, according to Susan G. Komen. A local recurrence would occur if the cancer returned to the original site. Even though the cancer has spread to another area of the body, it is named for the location in which it originated.
For her original treatment, a partial mastectomy was performed, which is when the cancer and some surrounding non-cancerous tissue is removed from the breast, writes BreastCancer.org. According to the nonprofit, there are five different types of mastectomies performed.
A total mastectomy is when the entire breast is removed, but surrounding lymph nodes in the underarm area are left intact. Lymph nodes located in the breast tissue can be removed in this operation. Some women opt for this to prevent the cancer from coming back.
Read: Shannen Doherty Breast Cancer Update: Actress Reveals She's In Remission
A modified radical mastectomy involves removing the entire breast plus some underarm lymph nodes, however the muscles underneath the breast are left untouched. Typically, women with invasive breast cancer will undergo this surgery.
A radical mastectomy is the most invasive form of the surgery and involves removing the entire breast, a large section of underarm lymph nodes and chest wall muscles. This is reserved for cases where the cancer has spread to the muscles as it is more complicated and disfiguring.
Reconstruction surgery can be performed after a mastectomy to restore the look and shape of breasts. For women who would rather not undergo reconstruction, a prosthesis can be made to fit over the chest. According to the American Cancer society, an estimated 252,710 women will be diagnosed with a new case of invasive breast cancer this year.
See Also:
Breast Implants Linked To Rare Cancer; FDA Reports 359 Cases, 9 Deaths From Anaplastic Large Cell Lymphoma
Breast Cancer Prevention 2017: Latest Medical Advice On Mammograms, Biopsies And Prevention
Published by Medicaldaily.com