Panera Bread CEO, Ron Shaich, Eats On $4.50 A Day With SNAP Benefits; Can Americans On Food Stamps Eat Healthy?
Panera Bread CEO, Ron Shaich, is "consumed" by thoughts of food while living on his current $4.50 daily budget. Earning an estimated $3 million a year, Shaich has jumped on board with the Supplemental Nutrition Assistance Program (SNAP) Challenge along with other members of Congress. The week-long (Sept. 15 to Sept. 21) challenge invites Americans across the nation to get a sense of what it is like for millions of low-income Americans to face hunger struggles on a daily basis.
Shaich has written about his experiences on his LinkedIn blog, often expressing the frustration of living on an extremely tight budget and trying to eat healthy at the same time. The Panera Bread CEO started his challenge early (Sept. 14) since he's Jewish and celebrated Yom Kippur (Sept. 15) with a fast.
On day one of the challenge, Shaich went to NSA Supermarket in Dorchester, Mass., a grocery store that is known to have significantly lower prices than other local stores in the area, to stock up on groceries for the week-long challenge.
"After just a few minutes walking the aisles of the store, the concern set in that I may not be able to sustain myself for the next seven days. Thirty one dollars and fifty cents, the weekly budget, didn't feel so insignificant until I actually started filling — and editing — what was ultimately a barren shopping cart," wrote Shaich on his blog.
He admitted that the grocery shopping trip was a challenge in and of itself since the millionaire doesn't generally do food shopping. Uneasiness and fear began to settle in for the Panera Bread CEO. In order to sustain himself for the next seven days with $31.50, Shaich had to load up on heavy carbs, and ease up on the meats or fruits and vegetables.
"The fact is, I was forced to choose foods that were filling – items that my Italian mother-in-law would have said will 'stick to my ribs.' But it isn't lost on me that I wasn't able to afford the fruits, vegetables and meats that most would say belong in a balanced diet," he wrote.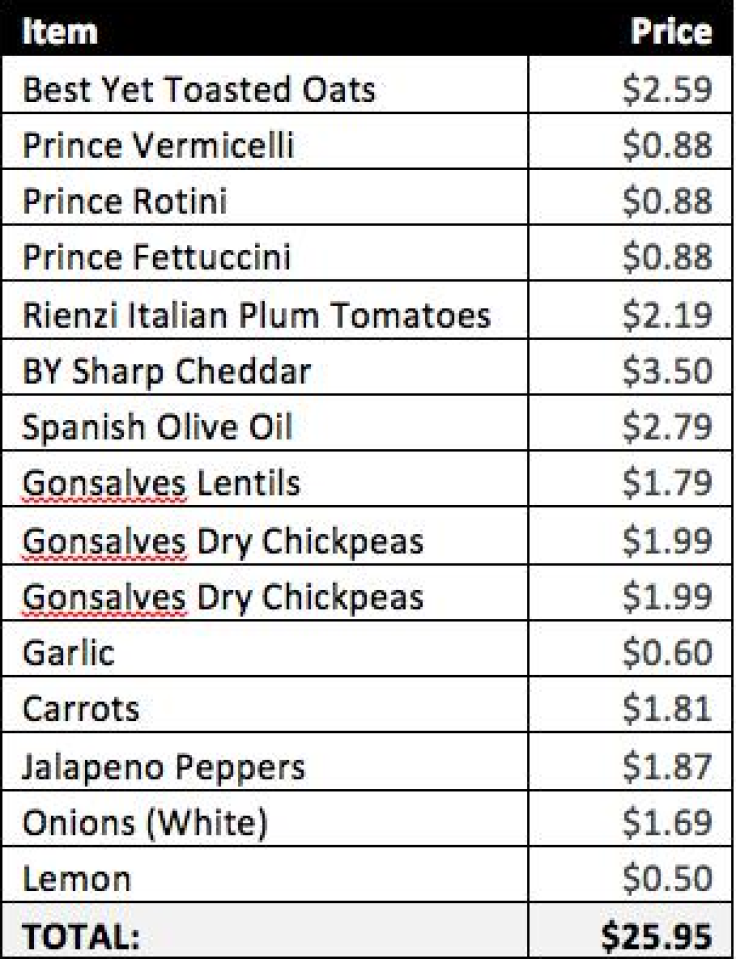 In total, Shaich spent $25.95, leaving him with just about $6 for the rest of the week.
As part of Hunger Action Month, SNAP challenge participants like Shaich have to live on a food budget given to the average SNAP recipient. With $4.50 each, participants are supposed to be covered for three meals in one day. The amount of SNAP money that millions of low-income Americans receive is not enough to provide their families with enough food, according to a Gallup survey.
According to SNAP to Health!, an estimated 46 million people were participating in the SNAP program as of Aug. 2011. On average, a SNAP recipient received $133.79, and the average household received $289.61 monthly.
The House of Representatives will vote this week on whether to cut SNAP benefits by $40 million, or 5.2 percent, over the next 10 years. With SNAP usage rising by more than 18 percent over the past four fiscal years, the cut would remove 76 million meals a year from New York City alone, the Washington Post reports.
To learn more about the SNAP challenge, visit Feeding America.
Published by Medicaldaily.com