Paralyzed Man With Exoskeleton Wedding Suit, Irving Caplan, Walks At Daughter's Wedding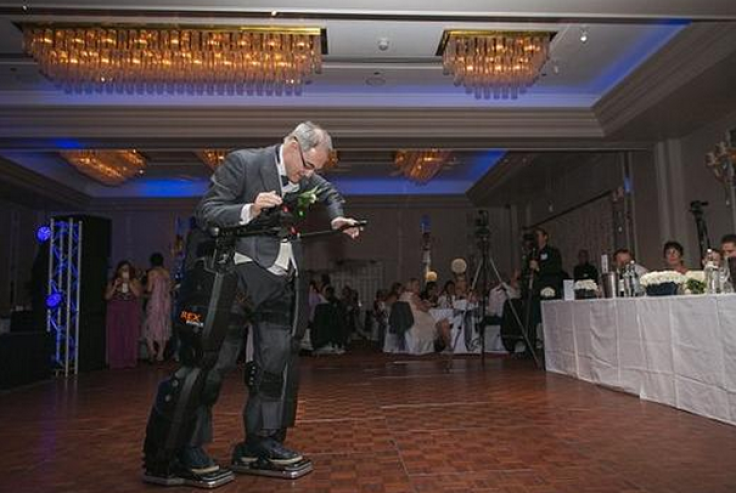 One of the most touching moments in a father's life is to walk his daughter down the aisle and deliver a father-of-the-bride speech. A 55-year-old man from the UK, left paralyzed from spinal cord injury in 2012, thought he would never be able to walk in his daughter's wedding until a few months ago. With the help of a Rex Bionics exoskeleton suit, wheelchair-bound Irving Caplan was able to take 30 steps to deliver the father-of-the-bride speech at his daughter Joanne's wedding.
"This was the next best thing, being able to get up and walk across the dance floor to the microphone, and do my welcoming speech," Caplan told the BBC. Caplan's three-minute walk across the hall of Sopwell House, St. Albans, was facilitated through the use of an exoskeleton suit controled by a joystick, 29 microprocessors, and 10 high-speed actuators at the wedding. The suit lent to Caplan for the day is worth about $125,000 — something the father admits he could not just "stick on the credit card, or be able to afford any time soon," he told the Daily Mail.
"It wasn't possible for a number of reasons for me to walk Joanne down the aisle, but I was able to do my speech standing up," said Caplan. "It is quite an issue when you end up in a wheelchair, being at the wrong height compared to everybody else. But being able to speak to everybody from the right height did make quite a difference." "It made a difference to me in the sense that I was doing it from the right perspective."
Caplan was able to fulfill his and his daughter's wish of walking in her wedding. This will be a walk to remember for the father-daughter duo. "I knew what he was going to do, but the only times he had tried it before, I had been at work, so it was still very emotional to see him walk across the room," Joanne said.
Published by Medicaldaily.com