Parents Of Down Syndrome Daughter Petition For Mentally Challenged Disney Chracter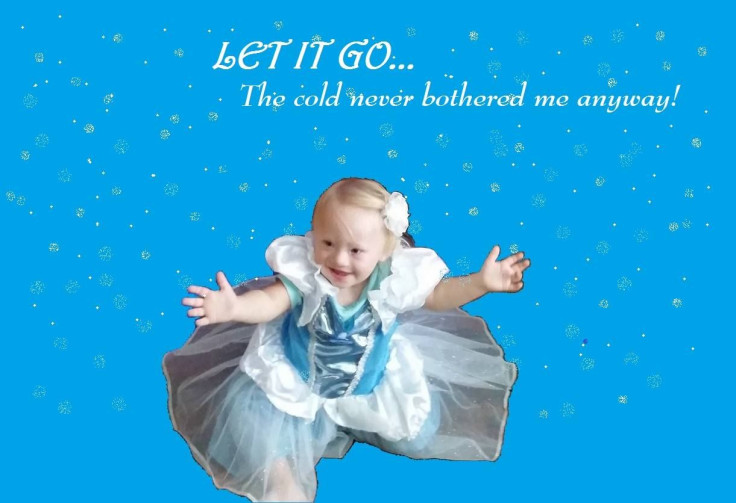 What do Elsa from Frozen, Ariel from The Little Mermaid, Tiana from The Princess and the Frog, and all other Disney princesses have in common? They're beautiful, ambitious, strong... and not one of them has a disability. Now two mothers are seeing to it that Disney considers adding a disabled heroine to this list as a role model for their daughter.
Keston Ott-Dahl and her wife, Andrea, of the Bay Area in California, have launched an online petition, urging Disney to consider creating a princess character with Down syndrome to serve as a positive example and role model for disabled children, such as their 16-month-old daughter Delaney Skye, who has the same disorder.
Delaney loves watching and giggling at Disney movies. Keston is hopeful that a disabled heroine would have a positive influence on her. "Our daughter has Down syndrome.
"Like other children, she adores animated movies — so when I see her mesmerized by Disney princesses, it breaks my heart to know that she has no role models like herself," said Keston in the petition.
Down syndrome is a disorder characterized by traits such as low muscle tone, small stature, and eyes slanted upward, and it can cause a small or high range of cognitive delays. The cause is due to an extra chromosome located in some or all of the cells that alters their genetic material and development, according to the National Down Syndrome Society. Disney has previously developed characters with limitations, such as Nemo with his small fin from Finding Nemo, according to Yahoo Travel! though never one with Down syndrome.
The Ott-Dahls first started the petition, titled "Ask Disney to represent children with Down Syndrome in its animated movies," in early October after Keston walked into her living room and found her daughters watching Frozen, their favorite disney movie. Delaney was smiling and laughing along to the music while Jules, her 6-year old, was crying on the couch. When Keston asked what was wrong, Jules replied, "Mommy, Delaney will never be a princess," in reference to her sister's Down syndrome.
"I thought, 'Oh my God, she's right'," Keston told Medical Daily. "Now, if a 6-year-old recognizes that, we should all be able to recognize that."
Keston and Andrea immediately sat down and came up with the idea, launching it on Care 2, a site that hosts a variety of petitions, the next day. The two received 1,000 signatures within the first hour and over 10,000 within the first week.
But while the two mothers have received much positive feedback, there has also been backlash in the form of nasty comments and hate mail, with people criticizing both their relationship and support for disabled people.
"One guy yesterday told me, 'Retards should be euthanized'," Keston said. "They just really need to be educated. I was one of them, too. I understand."
Keston and Andrea first found out their daughter would have Down syndrome in January 2013. Andrea, who was carrying Delaney, was a surrogate for two other women who immediately backed out upon finding out about the unborn baby's diagnosis. Keston said that before Delaney was born, she was scared of people with Down syndrome and other disabilities, believing they were the inspiration for monsters in movies.
"I needed to be educated," she said. "I needed to be taught. A higher power had faith in me."
The two, though nervous about the situation, decided to bring the pregnancy to full-term despite urges from family, friends, and doctors asking that they terminate it. Delaney Skye Ott-dahl was born on July 2, 2013. The inspiration behind her name came from the fact that Delaney means "warrior" in Gaelic and the word, Skye means "heaven," giving her a name that means "warrior from heaven," according to Keston.
"Everybody wanted this child dead. Our parents, our friends, the doctors. ... Delaney beat a lot of odds just by being born," she said, adding that her daughter has surpassed many challenges that Down syndrome children face in little time and that many of their relatives and friends have come to love and appreciate her.
Keston is now a Down syndrome activist, describing it as her "passion," and has set up The Delaney Ott-Dahl Foundation in honor of her daughter. She said that part of the reasoning behind the petition was also to show her other daughter, Jules that people like Delaney can be princesses and princes. She says Jules should be "proud" for alerting them to this absence in Disney characters.
Keston and Andrea plan to continue the online petition until Nov. 26 when they will hand it over to Walt Disney Studio headquarters in Burbank, Calif. Their daughters will be dressed as Elsa, and they have invited other families with disabled children to join them. Keston says the petition is not just for children with Down syndrome but all disabled children.
"Really, all abilities is our goal and our target," she said.
Disney has made no response as of yet.
She is hopeful but unsure if the company will consider their request. "I hope so," she said. "If they're smart, they will."
Published by Medicaldaily.com