Parihug At CES 2016: The Stuffed Teddy Bears That Provide Virtual Hugs Over Long Distances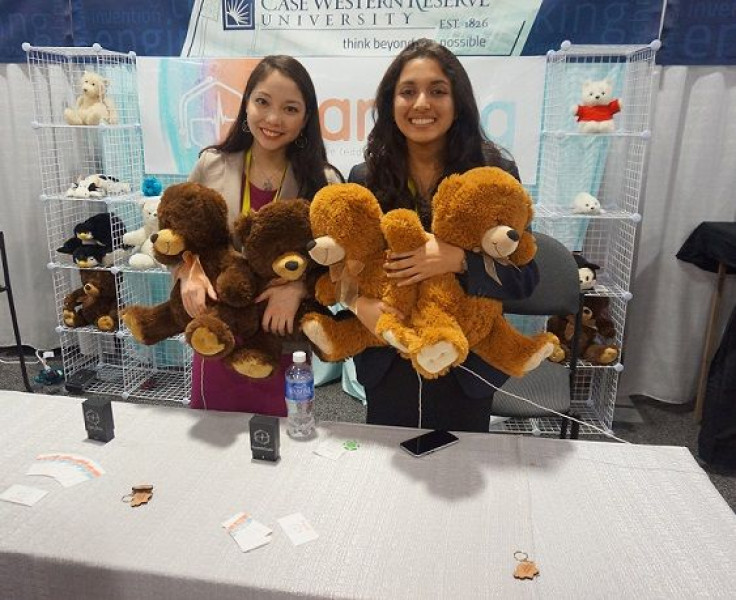 A wunderkind duo of engineers-in-training decided to craft a technological workaround the dreaded long-distance relationship: pairable bears that can hug someone for you.
"These bears were created to solve the fact that tactile communication is lacking," explained Harshita Gupta, Parihug co-founder and chief operating officer. "We have calls, texts, Facebook messages, Facetime, but it's really not the same as physical connection." The main difference between these and your typical cuddly bears are the hidden sensors that allow someone to hug one bear, and have the other respond with customizable vibrations that trigger a pleasing, calming sensation in the recipient who's holding it.
According to Gupta, a software engineer still in her senior year at Mission San Jose High School in Fremont, Calif., co-founder Xyla Foxlin first came up with the idea after her boyfriend moved to the other side of the country. Foxlin, a sophomore mechanical and aerospace engineering student at Case Western Reserve University, met Gupta through a women in a technology group at MHacks 6 (University of Michigan's hackathon) last September. It was at MHacks6 that they made the first prototype of Parihug.
Though Parihug has received some support from Case Western, in large part to Foxlin working for the university's think tank and maker space, think[box], the project is an entirely independent start-up.
With a more refined prototype in tow, and a planned crowdfunding campaign to begin in August, the two are hopeful their remote huggers showcase the capability of technology to bring people closer together, whether they're a parent and child separated by divorce, a couple kept apart by work, or elderly citizens living far from the rest of their family.
"It brings that human touch to technology, so that through it, we can empower people," said Gupta.
Published by Medicaldaily.com