Pediatricians Advised To Question Children's Media Consumption During Routine Checkups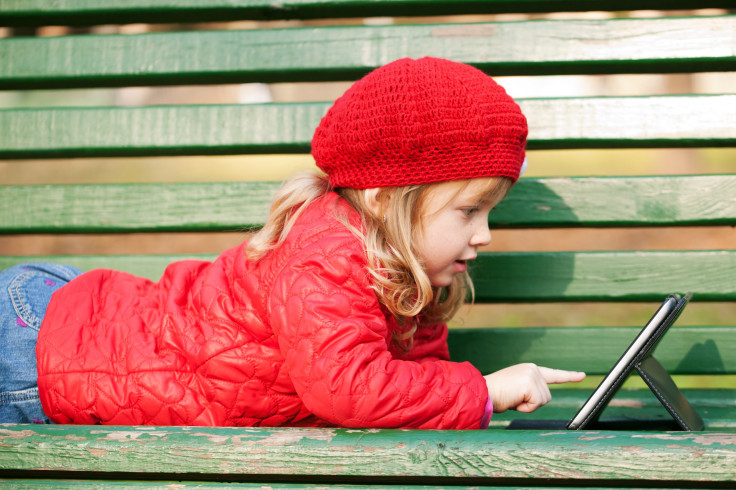 Gone are the days of Captain Kangaroo, metal Dukes of Hazard lunchboxes, and the novelty of recording one's voice on tape for posterity. Daily media consumed by today's children contains more information than the Encyclopedia Britannica and the holy books of the world's major religions—combined.
Like many American children, three-year-old David, denizen of Barre, Vt., is a rising media star with protean talent as a model, social media maven, and general spokesman for all things adorable. Thousands of images document his small-town life, most taken by his recently divorced 38-year-old mother, Katrina Wear Lemery, a former attorney turned stay-at-home mother. Throughout the day, David's world is carpeted aurally by the jingles and happy talk of a continuously running television, but only as background.
"He only sits down to watch about an hour of television per day," Lemery says, "and plays on the computer for an hour to an hour-and-a-half per day—there's an online learning program for preschoolers… we use almost daily."
However, David spends more time playing video games and the like when visiting his father, over which Lemery has little sway, with photography continuing at a slightly less frenetic pace.
In an acknowledgment of media's increasing influence over the development of children, the American Academy of Pediatrics now recommends doctors inquire about media consumption during routine checkups, striving to balance possibly detrimental health effects with the benefits of new media. For nearly three decades, since the age of Captain Kangaroo, the Academy has expressed concern about media consumption among young children and adolescents, regarding quantity and content. "A healthy approach to children's media use should both minimize potential health risks and foster appropriate and positive media use—in other words, it should promote a healthy 'media diet'," says Marjorie Hogan, a policymaker with the Academy.
Although mobile technology continues to penetrate the eight-and-under demographic, most young children subsist on a media diet heavy on television, with educational content thrown into a Kardashian medley of reality and soaps, sports, and—for some families—24/7 news channels. Of educational content consumed by children, 61 percent catch programming from television, particularly those of lower socioeconomic backgrounds. Another 38 percent just as frequently consume educational content via mobile platforms, including cellphones and iPads, with 34 percent using computers, according to a new study from Common Sense Media, a non-profit based in San Francisco.
On average, time spent by young children on "traditional" digital media, televisions and DVDs, has fallen by a half-hour per day as overall media use rises, according to the large national survey conducted by the group. As more adults acquire smartphones, including parents newly arrived in immigrant neighborhoods throughout New York City, 72 percent of American children have used mobile technology, ranging from educational games to the ubiquitous Angry Birds.
Amanda Fisher Potter, of Portland, Ore., says she allows Netflix for her children but sets different rules for her nine-year-old daughter Joslyn and 16-month-old son, Zeke. "My daughter plays on my computer probably twice a week for a half-hour and with my cellphone once a week for an hour, but TV is the big one—probably two hours of day," the 32-year-old court reporter says.
Aside from quantitative limits on media, many parents impose restrictions on content not expressly designed to maximize the precocious nature of one's breast-fed, organic progeny. Greta Jane Quentin, a 35-year-old dietician and stay-at-home mother, of Montgomery Center, Vt., says she and her husband also allow some Netflix with a smattering of YouTube on their six-year-old son Brody's iPad. "We don't believe in exposing our kids to commercial TV, because the advertisements are so sophisticated and insidious," she says, adding that so-called free online programming for children often brings plenty of commercial exposure.
However, some young parents who began childrearing as early adopters of technology emphasize an increasing acceptance of the digital life, without which they might lose touch. None of Sarah Bishop's three children, two boys and girl, would be permitted to leave their suburban Akron, Ohio, home without their cellphones, says the 32-year-old stay-at-home mother. "Without cellphones, how would I be able to get ahold of them at a moment's notice?"
Even within the relative safety of suburban life, Bishop's 10-year-old son Matthew is kept on a short leash—because he has yet to be given a phone. "How on earth did our parents raise us and have no idea where we were all day?" Bishop says, adding that her adoptive parents, too trusting, allowed her sleepovers with her high school boyfriend, to whom she is married. "We would walk in the door when the street lights came on, which is almost child abuse by today's standards."
In less judgmental language, the American Academy of Pediatrics advises parents to view media consumption as sustenance for the mind, a necessary component of today's society. Parents should establish "screen-free" zones in the home by banishing televisions, computers, and video game devices from children's bedrooms. Television should be killed once per day, for the dinner hour, and programming—limited to only one or two hours per day—should contain high-quality content, a stipulation easier met in a post TGIF America.
Interestingly, pediatricians also advised parents to encourage outdoor play and, when possible, the use of imagination.
Published by Medicaldaily.com