Pelvic Floor Muscle Training (Like Kegels) May Improve Orgasm, But Please Don't Lift Weights With Your Vagina [VIDEO]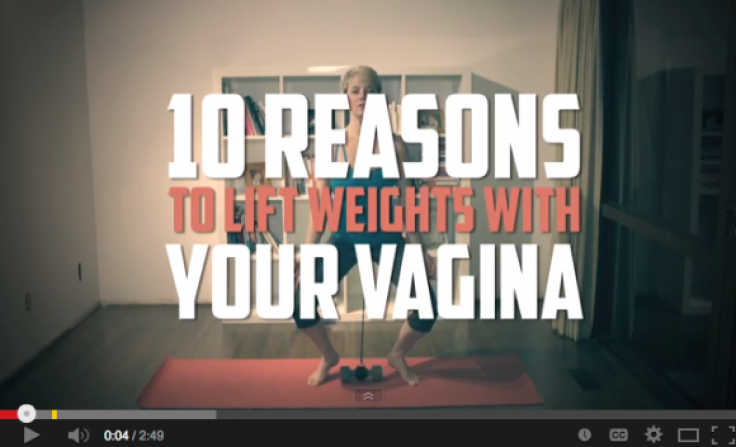 In a video entitled "10 Reasons To Lift Weights With Your Vagina," sex coach Kim Anami touts the benefits of having a strong pelvic floor. While many health experts say strengthening vaginal muscles can be advantageous to women for numerous reasons, there are other, more practical ways to train your pelvic floor muscles without attaching them to 10-pound weights.
Pelvic Floor Training To Treat Incontinence
Pelvic floor muscle training exercises help treat urinary stress incontinence and fecal incontinence, according to the National Institutes of Health (NIH). Pelvic floor training can help strengthen uterus, bladder, and bowel muscles in order to stop bladder leakage and gain more bowel control. The Mayo Clinic has an entire Pelvic Floor Disorder Clinic dedicated to the diagnosis and treatment of conditions related to pelvic floor weakness. According to the clinic, nearly one in three women experience symptoms of a pelvic floor disorder, which include pain when urinating, urgent urinations, sagging pelvic organs, and sexual problems. Pelvic floor muscle training exercises, commonly called "kegels," are used to treat the symptoms of weakened pelvic floors. They require women to relax and tighten the muscles that control urine flow.
The NIH recommends a four-step process to perform pelvic floor exercises: (1) Empty your bladder. (2) Tighten your pelvic floor muscles and hold for 10 seconds. (3) Relax those same muscles and count to 10. (4) Repeat the process three to five times a day.
Is Orgasm Intensity Determined By Pelvic Floor?
Pelvic floor strength has also been linked to improved female orgasms. According to Cosmopolitan magazine, weak pelvic floors may be the difference between mediocre orgasms and achieving true intensity. "Many women aren't orgasming at all. Or they're feeling the flicker of a candle instead of fireworks," said Dr. Lauren Streicher, a professor at Northwestern University's medical school.
"The orgasm is an intense contraction, and a stronger pelvic floor can definitely intensify that and even make it easier to have G-spot orgasms. This is because you are creating greater tension around the G-spot and around him [the man's penis]," said sex therapist Dr. Laura Berman, according to The Huffington Post.
10 Reasons To Lift Weights With Your Vagina
In her introduction to the comedic video, Anami does acknowledge the many benefits — aside from the ones listed in the short clip — of having a strong vagina and pelvic floor. Among them, she wrote, are easier childbirth, increased libido, and better vaginal lubrication during sex. Watch Anami's hilarious video to see why your vagina may in fact make you a superhero:
Published by Medicaldaily.com