People With Type 2 Diabetes May Benefit From Drinking Red Wine In The Context Of A Healthy, Mediterranean Diet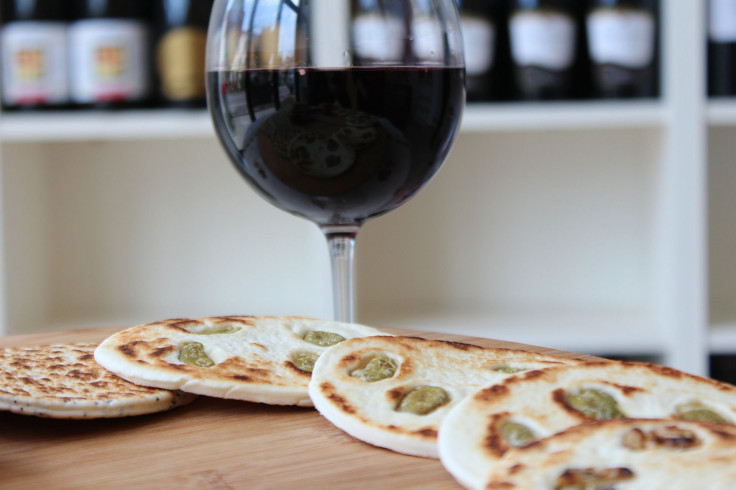 The benefits of moderate alcohol consumption have been heavily debated, perhaps no more so than when experts are considering red wine. Compared to white wine, red wine has more phenols — a smaller version of the antioxidant compound known as polyphenols. The latter are what some experts believe helps reduce chronic disease risk, such as cancer and cardiovascular disease. So it would stand to reason that an occasional glass or two of Pinot could be part of a healthy lifestyle. And among people with type 2 diabetes, it very well may be, according to a new study published in the Annals of Internal Medicine.
An international group of researchers found that within the context of a healthy diet — in this study it was the Mediterranean diet — drinking dry red wine can help control cholesterol and blood glucose (sugar) levels; that is, it can control levels under certain conditions. The diabetic men and women aged 40 to 75 that were recruited to participate in this two-year trial had previously abstained from alcohol and were found to have their diabetes under control. Abstaining meant participants drank alcohol once per week — any more and they were excluded.
At the start of the study, and again at six and 24 months, participants gave blood samples and completed electronic questionnaires, which "collected data on demographics, lifestyle patterns, any medications they were taking, symptoms, and quality of life." All the while participants were consuming 150 milliliters, or 5 ounces, of their assigned beverage with their dinner. The patients assigned to consume wine were instructed to "intitiate drinking gradually over the first month and avoid driving after drinking." These patients were also asked to return the empty bottles of wine as an additional measurement of use.
In addition to their beverages, researchers also provided guidelines to follow a Mediterranean diet, but didn't make an attempt to restrict calories. Researchers chose this particular diet in an attempt to achieve a comparable healthy diet, as well as provide an additional incentive to participate. And after two years, HDL "good" cholesterol levels significantly increased in the red wine group compared to the water group. While both the red and white wine group improved blood sugar, only white wine had a significantly greater impact on blood glucose levels. Researchers did not notice any "significant wine-related adverse events, symptoms, or changes in quality of life." Oddly enough, wine drinkers reported improved sleep quality despite this not usually being the case.
I know that's a little confusing, but in the end, researchers concluded dry red wine led to greater health benefits than white wine or mineral water.
"Red wine may be somewhat superior in improving lipid profile variables, which indicates the potential synergy of moderate alcohol intake with specific non-alcoholic wine constituents," the researchers wrote.
Genetics seems to be a bit at play here. Researchers found that slow-alcohol metabolizers improved their blood sugar more than those who were fast-alcohol metabolizers.
"The genetic interactions suggest that ethanol plays an important role in glucose metabolism, while red wine's effects additionally involve non-alcoholic constituents," they wrote. "Yet, any clinical implication of [these] findings should be taken with caution with careful medical follow-up."
It's worth reiterating that the wine benefits were reaped by men and women with well-controlled diabetes and were at a low risk of alcohol abuse — they also drank in the context of a healthy diet. As Medical Daily has previously reported, the many benefits attached to red wine aren't enough to make-up for other unhealthy behavior.
To researchers' knowledge, this is the first large long-term look at alcohol, and the results suggest more research on the different health effects of drinking red and white wine.
Cheers.
Source: Gepner Y, et al. Effects of Initiating Moderate Alcohol Intake on Cardiometabolic Risk in Adults With Type 2 Diabetes. Annals of Internal Medicine. 2015.
Published by Medicaldaily.com