Philadelphia Explosion Brings Down Row House Block; Baby Girl Thrown Out Of Window While On Fire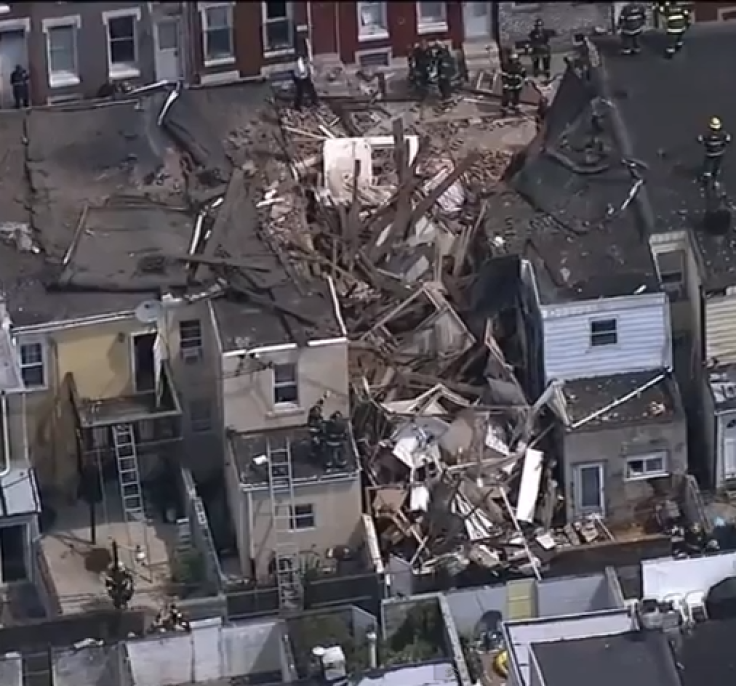 On Monday, a natural gas explosion obliterated three row houses in a Philadelphia neighborhood, hospitalizing at least eight people.
CNN reports that while seven of the victims are being treated for minor injuries, one person remains in critical condition with severe burns.
Deputy Fire Chief Robert Coyne told reporters that a contractor was working in the basement of a vacant home at 428 Daly Street when a sudden explosion brought down the house, along with two adjacent residences. A couple and their two-month-old baby were inside one of the neighboring houses, and the three of them are currently being treated at Jefferson University Hospital.
Witnesses reportedly smelled gas immediately after the explosion that caused the houses collapsed.
"I was sitting in the house and I heard a big bang. The door slammed and the TV went out," Mike McGraw, a witness, told CNN affiliate KYW. His son, Mike McGraw Jr., described the crumbled buildings, and how firemen were hosing down victims who had been burned.
"They threw this baby out the window because the girl was on fire," he said, "and the fireman had to catch the baby."
Lara McColgan, who lives around the corner from the blast site, told reporters from NBC Philadelphia that she was at home when the explosion suddenly leveled the row houses down the block.
"I was upstairs brushing my teeth. I heard a very loud noise. Not being sure what it was, I came downstairs and went out my back door," McColgan said.
"I went outside and saw everyone running around the corner. I saw the building down, saw the smoke and smelled the horrible smell of gas as well," she continued. "It definitely was an explosion."
According to Rebecca Swanson, a representative of the Philadelphia Department of Licenses and Inspections, the construction permits issued for the address were for routine mechanical work. These permits were "finaled" on Friday, meaning that the work had been completed, inspected, and approved. Monday's work reportedly involved outstanding electrical work.
As of Monday afternoon, several homes in the area remain evacuated, and gas service on the street has been turned off. City officials are currently investigating what caused the gas leak and subsequent explosion.
Published by Medicaldaily.com