Porn Site Will Donate to Breast Cancer Charity for Every Video You Watch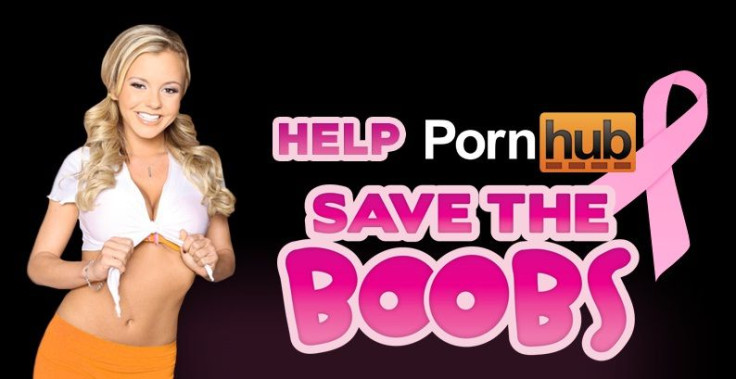 Here's a touchy subject: in honor of National Breast Cancer Awareness Month, free adult entertainment site PornHub is offering a strange method of fundraising. The company says that it will donate 1 cent to every 30 boob-themed videos watched on the site. That may not seem like a lot, but the company said that they receive about 70 to 90 million clicks a month. Already, over 12.1 million videos have been watched on the site, and we are only five days into the month. That already adds up to over $400,000.
"It doesn't matter if you're into itty-bitty-titties, the perfect handful, jumbo fun-bags or low-swinging flapjacks, what matters most is that your kind and selfless gesture will go a long way towards helping our sisters to find a cure," the company said in a press release.
PornHub had initially intended for the recipient of their donation to be the Susan G. Komen Foundation. The breast cancer charity has had a rough year; when they pulled funding to family-planning clinic Planned Parenthood in January, they faced severe backlash, and attendance at their events plummeted. However, the Foundation says that their books are doing just fine; they reported that, as of 2010, the Susan G. Komen Foundation Race for the Cure and affiliated events have raised $1.4 billion. A spokesperson for the organization said, "Susan G. Komen for the Cure is not a partner of pornhub.com. We will not accept donations from this organization and have asked them to stop using our name."
This is not the first time that PornHub has targeted breast cancer as a cause. Earlier this year, in April, the web site sponsored the "Save Our Boobies" bus, which featured porn star Bree Olson, and drove around New York offering free breast cancer screenings and information about breast cancer self-examination.
The website is not sure yet which charity will receive the portion of its revenue, but hopes to offer a new recipient in the next few days. They ask that any breast-cancer charities come forward.
PornHub is the world's third largest porn site.
Published by Medicaldaily.com