Public Citizen Criticizes Hospitals Of 'Fear Mongering' To Market Expensive Medical Testing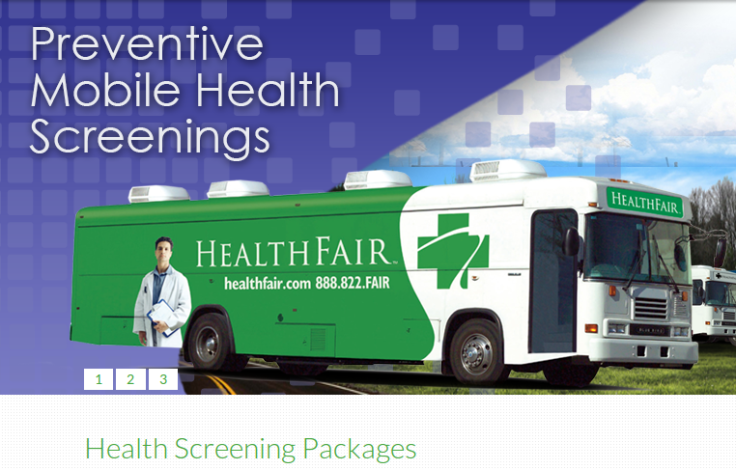 Consumer watchdog Public Citizen accused 20 hospitals and health systems across the United States of "fear mongering" to upsell patients on expensive medical tests. Public Citizen says low-cost health screenings advertised by hospitals often lead to more expensive — and even riskier — exams in a classic bait-and-switch. Health screenings beneficial for some patients should not be marketed as necessary testing to the general public, the group said in a press statement. Specifically, the group requested that hospitals end sponsorships with HealthFair, a provider of medical screenings conducted in vans specially outfitted as mobile clinics.
"HealthFair [based in Winter Park, Fla.] and most of its hospital and medical institution partners — peddles inexpensive cardiovascular disease screening packages to people living near the hospitals and institutions without identifying who has relevant risk factors that would make each of the screening tests medically appropriate," Public Citizen said in a press statement. "The screening tests are performed in buses, often bearing the names and logos of both the partner hospital or medical institution and HealthFair. The buses roam the surrounding geographic areas of the partner hospitals and medical institutions."
Most egregiously, the group says, HealthFair bundles four cardiovascular tests into a $179 package "valued at $2,300." Consumers whose tests suggest heart problems might then receive follow-up tests costing much, much more, according to Michael Carome, who directs Public Citizen's health research.
"That $179 may seem like a bargain, but zero dollars would be the real bargain," Carome told USA Today. "You don't need to spend any money on these tests unless you fit into a very narrow population, and no one needs to be screened with six at once."
HealthFair declined to comment to media on Public Citizen's letter, but the merits of the health screenings were defended by Nanette Bentley, a spokeswoman for sponsor Mercy Health in Cincinnati. "Health screenings can be a lifesaving tool," she said in a statement. "Heart disease is a leading cause of death in the U.S., according to the American Heart Association. Our implementation of these screenings is consistent with our values of compassion and human dignity while expanding access to care in the communities we serve."
Bentley said the hospital's local hospital workers were "closely involved in managing patient care."
Yet experts such as Steven Nissen, chairman of cardiology at the Cleveland Clinic, remain critical of hospital marketing tactics intended to bring such health screenings to the mass market. "I have seen people in my own practice who have been unnecessarily harmed" by unnecessary tests," he told USA Today. Patients who receive unnecessary CT scans, for example, are exposed to radiation that might possibly harm them, he said."This is a serious problem."
Tellingly, a business strategy group in the industry recommends "Nine Dos and Don'ts" of marketing for services delivered in busses and vans. The first rule of mobile health marketing? "Your goal is to make connections and increase awareness, NOT to make immediate sales."
Published by Medicaldaily.com