In New Bill, Utah Governor Gary Herbert Says Pornography Is A Public Health Crisis That Encourages Sexual Violence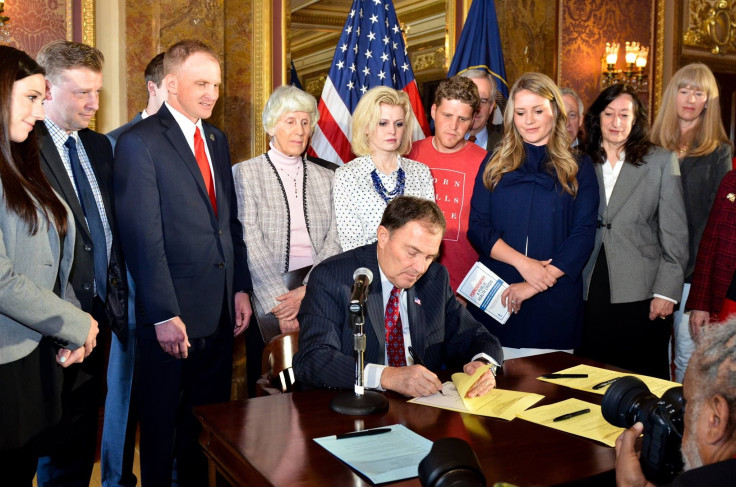 People's opinions on pornography are as varied as the legislation surrounding it. Some countries allow the industry to flourish, and believe pornography is a healthy outlet through which to explore sexuality. Others, however, claim the adult industry and the films it produces incite violence towards women and immoral behavior. In some cases this has led to governments taking measures to limit mainstream pornography alongside uncontroversial bans of child pornography. Utah hopped on the anti-porn wagon this Tuesday, with Gov. Gary R. Herbert signing two pieces of legislation meant to limit the "societal harms" it can cause.
"Pornography is a public health crisis. The problem is rampant, yet it thrives in secrecy and silence," said Herbert on his Facebook page. "Today's bills will start an open discussion, bringing its very real dangers to light."
The first of the documents is a resolution which states that pornography is "a public health hazard leading to a broad spectrum of individual and public health impacts and societal harms," making Utah the first state to declare pornography as such. The bill claims pornography creates a toxic sexual environment, treats women as objects, and creates violence towards both women and children. It also cites recent research that found pornography is "potentially biologically addictive," saying this will lead to increased tolerance for shocking material, and in turn, increased themes of risky sexual behaviors, degradation, violence, and child porn.
The resolution cannot punish; it doesn't ban pornography in the state, but simply recognizes it as a public health hazard. John Coz, the governor's spokesman, explained that the point of the bill is to raise awareness and educate people about the addictiveness of porn that can harm society.
The second document, however, is a bill with enforcement power.
It requires any computer technician who comes across child pornography while working to report it to law enforcement or the federal Cyber Tip Line for child pornography. A failure to do so will now be classified as a class B misdemeanor. It does note that internet service providers are not liable if they report the pornography in compliance with the federal law.
The bill has unsurprisingly garnered support from the Utah Coalition Against Pornography, which encouraged people to "celebrate and recognize this historic moment," and Dawn Hawkins, the executive director of the National Center on Sexual Exploitation in Washington.
"Pornography encourages viewers to view their sexual partners in a dehumanized way, and it increases the acceptance and enjoyment of sexual violence and harmful beliefs about women, sex and rape," she said in 2005.
Published by Medicaldaily.com