Demi Lovato Shoots Nude Photo Series To Show Women Can Overcome Body Image Issues, Too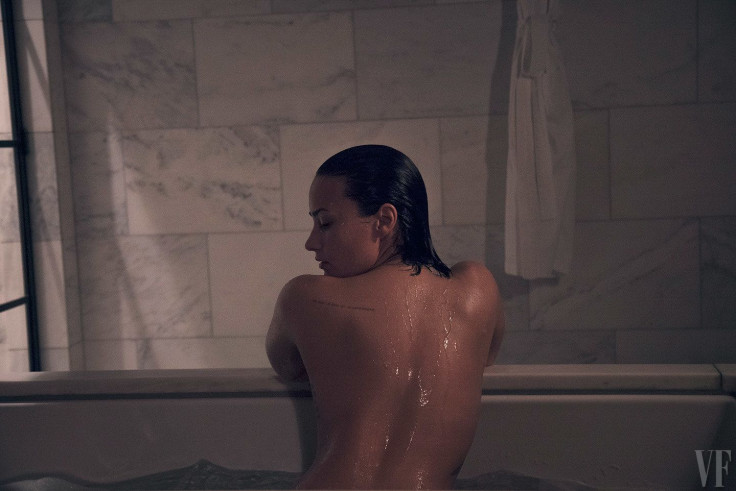 In a new photo series for Vanity Fair, actress and singer Demi Lovato goes nude and make-up free in an effort to show what it really means to be comfortable in your own skin. Taken by photographer Patrick Ecclesine, Lovato says she never thought she'd reach a stage in her life where she'd feel this level of confidence, but she's ready to show who she truly is.
"If there's one thing I've learned...it's that life is too short," Lovato said in the essay accompanying her series. "I'm about to launch an album that finally represents who I truly am. How do I embrace this new chapter in my life? How do I really walk the walk? What does it mean to be confident? It means letting go, being authentic, saying I don't give a f*** and this is who I am. I want to show the side of me that's real, that's liberated, that's free."
The shoot, which was taken in the early hours of the morning in a hotel room in New York City, features the 23-year-old starlet posing nude in a tub, covering some of her more private areas. She said that for the shoot she wanted something "totally raw" featuring her without "makeup, no fancy lighting, no retouching and no clothing."
Lovato explains that during the shoot, she found something very liberating about being free of clothing, and the usual additions used to enhance her more authentic self. When she pictures what it means to be confident, she says that this photo shoot represents the epitome of it. The "Confident" singer also hopes that her shoot will send out an important message to women about body positivity.
"It's empowering and it shows other women that you can get to a place where you can overcome the obstacles of body image issues and you can feel comfortable and confident in your own skin," she said in the video accompanying the shoot.
Lovato, who has suffered from eating disorders in the past says that learning to love herself was a constant battle. But now, through spiritual realization, she is learning to appreciate herself the way she is.
Published by Medicaldaily.com