Elmo Teams Up With Surgeon General For A Pro-Vaccination Public Service Announcement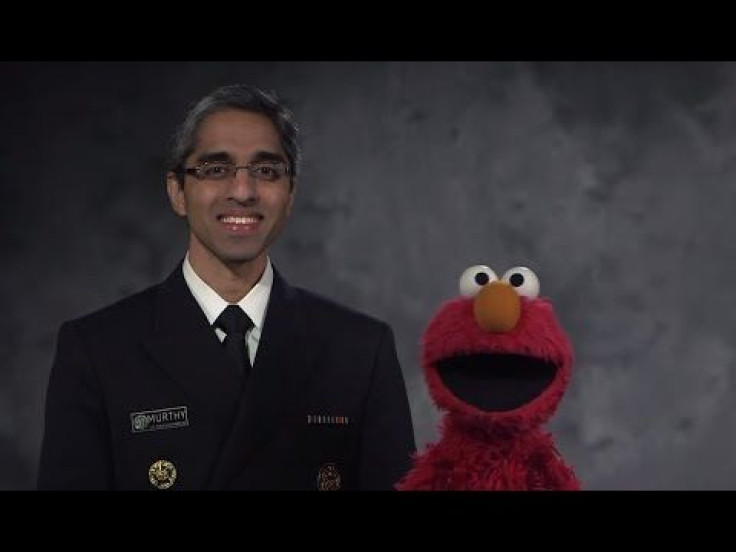 "Get vaccinated with Elmo!" the furry red puppet exclaims alongside America's Surgeon General Dr. Vivek H. Murthy. In an effort to combat myths of conspiracy and danger, Dr. Murthy teamed up with Sesame Street's very own Elmo to encourage parents of the safety and efficacy of "shots to help you stay healthy."
In the ongoing effort to increase vaccination rates and decrease fear, the Department of Health and Human Services and Murthy called upon the famous beloved children's puppet to record a 30-second public service announcement together. Elmo announces his willingness to help improve the safety of the country by getting his vaccinations on time.
In a blog published with the video, Murthy pulls the most recent statistics from the Centers for Disease Control and Prevention, which said that "among children in the U.S. born between 1994 and 2013, routine vaccinations will prevent an estimated 322 million illnesses, 21 million hospitalizations, and 732,000 deaths over the course of their lifetimes."
The campaign is in an effort to change thousands of skeptical parents' minds. One in four parents believes vaccines are a direct cause of autism, thanks to a retracted study published in 1998 claiming to have found a connection between vaccines and autism. After the paper published, it reverberated with misinformation, which then breathed dangerous life into an otherwise hollow study, according to the Lancet journal retraction.
In 2011, the CDC reported 222 cases of measles, most of which occurred in unvaccinated children and adults, making it the highest number of measles cases since 1996. A year later, another 50,000 people in the United States contracted the highly contagious respiratory tract infection whooping cough, killing 20 people. Both conditions are completely preventable if a child is vaccinated to schedule. And most recently, the Disneyland measles outbreak in California, resulting in 147 cases, spread across the country. Nobody died this time, but Elmo and Murthy are spreading a reassuring message to kids and parents to prevent future outbreaks.
Published by Medicaldaily.com