Restaurant Rival Poisons 80 Diners' Eggplant Dishes in China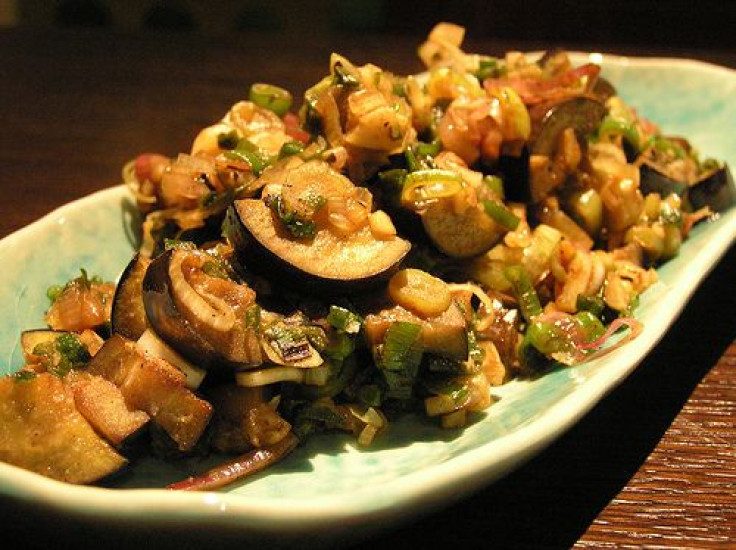 Diners in China received quite the uncomfortable surprise recently when they ordered eggplant dishes in a Beijing restaurant. The dishes had been laced with clonidine, a drug prescribed for a variety of conditions, including attention deficit hyperactivity disorder, menopause and LSD flashbacks. The event sent 80 diners to the hospital; 34 patrons needed to have their blood pumped in order to remove traces of the drug.
According to the Annals of Internal Medicine, the perpetrators were connected to a neighboring restaurant, who wanted to gain a leg up on the competition by making its patrons sick. The pair hid the drug, a white powder without a scent, in the restaurant's starch, which the chefs used to thicken the braised eggplant. Clonidine was likely chosen because it takes only a small trace of the drug to make a person sick and would be tasteless. The diners fell ill almost immediately, becoming dizzy, tired, nauseous. Some diners also reportedly suffered from blurred vision and started vomiting.
Doctors at an area hospital quickly discovered that the source of the diners' symptoms was potentially toxic levels of clonidine in their blood. The police traced the drug to the restaurant before linking the chemical with the nearby restaurant. The perpetrators were snagged and sentenced to one year in prison.
Clonidine is immensely harmful for those to whom it is not prescribed, especially children. In fact, the drug is considered dangerous enough that even one pill could be deadly for children under the age of six. The American College of Emergency Pediatricians reported in 2010 that there was a concerning uptick in the amount of clonidine poisonings in children.
NPR reports that food contamination is not altogether inconceivable in the burgeoning superpower. Antifreeze-spiked vinegar, steroid-boosted pork, melamine-laced baby formula caused hundreds of people to be sick in recent years. Even competitive poisoning is not unheard of; recently, a dairy farmer contaminated his rival's dairy supply with nitrate.
Happily for this case, all of the diners survived.
Published by Medicaldaily.com