Rob Ford Cites Alcohol As Reason For Taking Leave, But Footage Suggests He Uses Crack Cocaine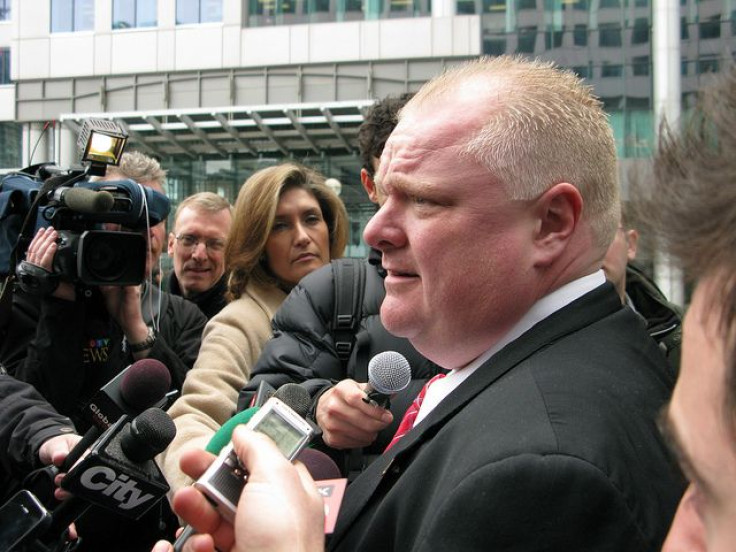 Toronto Mayor Rob Ford has confirmed that he is taking a break from his re-election campaign in order to focus on his issues with alcohol. The announcement came only hours after a local newspaper confronted the Canadian politician with claims of a new video of him smoking what appears to be crack cocaine. Ford's lawyer, Dennis Morris, has questioned the authenticity of the footage but informed CNN that the mayor's leave will begin immediately.
Two reporters from The Toronto Globe and Mail are reported to have recently viewed a new video of Mayor Ford smoking an unconfirmed substance out of a long metallic pipe. The newspaper explained that the video was taken by a self-proclaimed drug dealer who was hoping to sell the footage for a hefty price. Although the paper did not buy the footage, they did take several screenshots, which they posted online.
Shortly after news of the footage broke out, Ford announced his break from the political scene. "Today, after taking some time to think about my own well-being, how to best serve the people of Toronto and what is in the best interests of my family, I have decided to take a leave from campaigning and from my duties as mayor to seek immediate help," Ford explained, CNN reported.
The mayor makes no mention of the illegal drug use accusations and instead cites alcohol abuse as the reason for stepping down. "I have a problem with alcohol, and the choices I have made while under the influence. I have struggled with this for some time," Ford said.
Dennis Morris, Ford's lawyer has addressed video, urging that the public take the shady character of the videographer into consideration. "If these guys are drug dealers and there's money involved, they can say whatever they want to get more money, to extract more money from the people who are paying," Morris explained to CNN.
This is not the first time Ford has been accused of using illegal drugs. In May 2013, a cellphone video was released to the public showing the mayor smoking what appeared to be crack cocaine. Following the footage's release, Toronto city council stripped Ford of most of his power as mayor. After months of denial, Ford finally admitted that he had smoked crack "in a drunken stupor." Still, the politician denied having a substance abuse problem and refused to attend rehab.
Published by Medicaldaily.com