Sarah Murnaghan Undergoes Surgery for Paralyzed Diaphragm, a Complication of Lung Transplant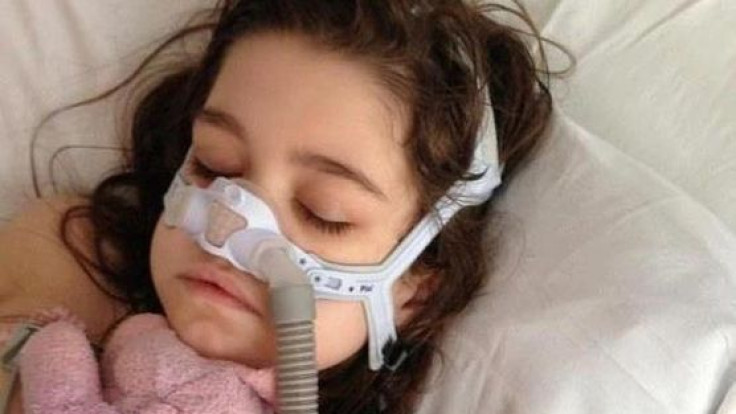 Sarah Murnaghan, the 10-year-old Pennsylvania girl with cystic fibrosis, who spurred national debate regarding organ donation rules for children, was taken to the operating room for a third surgery today, which will repair a paralyzed diaphragm.
A complication of her previous operations, Sarah is having the operation at the Children's Hospital of Philadelphia. If all goes well, she will be able to breathe on her own again. She received a lung transplant on June 12, however, they failed within hours, resulting in a second lung transplant three days later. She was able to breathe on her own for a short period of time before her diaphragm became paralyzed, preventing her lungs from fully expanding, and forcing her to be put back on a ventilator, USA Today reported.
"Sarah is doing well, alert, improving inch by inch," her mother, Janet Murnaghan, wrote on her Facebook page on Monday. "We are hopeful tomorrow's surgery will bring us closer to a successful extubation."
Sarah has spent a lot of time in the hospital with end-stage cystic fibrosis, a life threatening disease — doctors only gave her a few weeks to live — in which the passageways of the lungs and digestive system become clogged from mucus. Normally, this mucus causes no problems, however, with cystic fibrosis, a defective gene causes it to become thicker and stickier. Advances in medicine have led those with cystic fibrosis to live until they are in their 40s.
Sarah's case became the center of national attention when her parents sued to change organ donation rules established by the Organ Procurement and Transplant Network (OPTN), which assists the United Network for Organ Sharing. Under their rules, children under 12 years old aren't supposed to receive adult organs, especially lungs since they are usually too large to fit inside a child's chest.
However, it was not the Department of Health and Human Services Secretary Kathleen Sebelius who allowed the transplant, it was U.S. District Judge Michael Baylson. He ordered the OPTN to create a second database for transplants with a fake birthday for Sarah, consequently tricking the system into thinking she was 12 years old.
It's questionable if any of this would have been possible, however, if Janet Murnaghan had not used social media to broadcast her daughter's illness.
"Not every story catches media attention," Dan O'Connor, who specializes in the ethics of social media and health care at the Johns Hopkins Berman Institute of Bioethics, told ABC News. "It's like lightning in a jar."
Murnaghan used to work in communications, her Facebook page says. Her Change.org campaign was in the top one percent of the website's petitions. Titled "OPTN/UNOS: Change Policy to Allow Pediatric Transplants of Adult Lungs Based on Medical Necessity," it received over 373,000 signatures, and eventually went viral, resulting in the amount of attention Sarah's case received.
"Five, 10 years ago, this wouldn't have happened," O'Connor said. He said that by telling Sarah's story through social media, Murnaghan was able to regain some sense of control that she might have lost during her daughter's illness. "Her primary goal was to save her daughter's life. Anyone in that situation would use whatever tools were available to them."
Published by Medicaldaily.com